Rapid sale of 10% of Lloyds mooted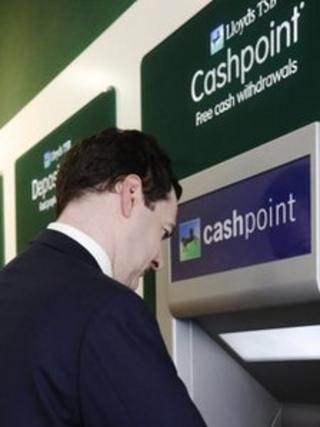 The Treasury has received approaches from a series of sovereign wealth funds and private-equity businesses to buy around 10% of Lloyds, either just before or simultaneous with a more conventional placing of shares with investment institutions, I have learned.
Sources close to the Chancellor tell me George Osborne hasn't ruled out such a deal, which could be worth around £5bn, but would only do it if persuaded that the transaction represents conspicuous value for money for the taxpayer.
"There is a Gordon Brown`s gold issue here," said a source, referring to the criticism that dogged the former chancellor Gordon Brown that he sold too much of Britain's gold reserves too cheaply.
The Treasury is therefore looking for any buyer of the stake to pay a premium to the market price, which at the time of writing is 66p.
"Based on today's price, if someone offered 70p, we'd have to be interested" said a source.
'Rip off'
However another source said some of the bidders wanted a discount to the market price.
Also a large number of them did not want to buy the shares as shares, but wanted them repackaged into convertible bonds, similar to the method Barclays used to raise money from the Middle East after the crash of 2008.
"It would be a mistake to sell the shares in the form of bonds or in any way than in their plain vanilla form" said another source. "Anything that looks like complicated financial engineering would raise suspicions that the Treasury is being ripped off, and those suspicions would probably be right."
Another adviser to Mr Osborne said: "If we do a deal with one of these sovereign wealth or private equity firms, we need complete transparency on what we are selling and the price. Most of those buyers don't like that transparency. They are looking for a bargain, and want to hide the true commercial nature of the transaction through a complex structure."
Quick
If in the end a deal can be reached with a powerful state investor, such as the sovereign wealth funds of Norway or Singapore, or with a consortium of private equity investors, such as those put together in other contexts by Corsair, it could happen relatively quickly.
Sources have told me that such a transaction could take place not long after the summer - but would not give odds on it actually happening.
In his Mansion House speech to the City last month, the Chancellor gave the green light to the first stage of the privatisation of the Treasury's 39% stake in Lloyds, signalling that it would be initiated by a large placing of shares with mainstream investment institutions rather than retail investors, probably before the end of the year - so long as Lloyds' share price continues to rise.