Olympus shares fall as it unveils plans to raise $1.2bn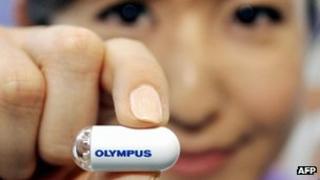 Shares of Japanese camera and medical equipment maker Olympus have fallen after it unveiled plans to raise 118bn yen ($1.2bn; £780m) in fresh capital.
Olympus will raise the funds by selling new shares to overseas investors to fund the expansion of its medical equipment businesses.
Some funds will also be used to repay debt and rebuild its financial health after a recent accounting scandal.
Its shares dipped 5.4% to a near eight-week low of 2,928 yen in Tokyo.
"The company intends to use the net proceeds to further its growth strategies... which focus on the further strengthening of its medical business and rebuilding its financial health," Olympus said in a statement.
The company is one of the biggest players in the global medical equipment market.
However, its reputation took a big blow after the revelations of an accounting scandal at the firm in 2011.
The scandal, one the biggest financial frauds in Japan's history, came to light after then chief executive Michael Woodford was dismissed from his post after challenging chairman Tsuyoshi Kikukawa and the board over suspiciously large payments related to acquisitions.
That led to an investigation being launched, which revealed a cover-up of losses dating back to the 1990s.
Mr Kikukawa and executives Hisashi Mori and Hideo Yamada subsequently resigned and pleaded guilty to charges of falsifying accounts to cover up losses of $1.7bn (£1.1bn).
Last week, a Japanese court gave the three executives suspended jail terms for their roles in the accounting scandal.
Olympus was ordered to pay 700m yen in fines.