Royal Mail stock market flotation likely in autumn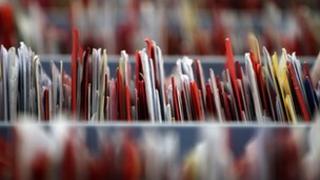 Today's announcement that Royal Mail is likely to be privatised by being floated on the stock market, probably in the autumn, and not by being sold to a private-sector rival, may be viewed as a harking back to what some see as the glory days of privatisation under Margaret Thatcher and John Major.
That is because it would be the first time in about two decades that a household name nationalised industry will have been sold to investment institutions and retail shareholders.
However unlike the great privatisations of the past, of the gas, electricity and telecoms industry, there will be no aggressive attempt to sell the shares to individuals - there will be no campaign such as the famous "Tell Sid" adverts of the 1980s for the flotation of British Gas.
Risks
Ordinary people will be able to buy shares, on a special internet site or via a stockbroker. But they won't be urged to do so.
And the reason is that Royal Mail is a business not without risks for retail investors - not least of which is that the CWU union, with more than 100,000 members in the Royal Mail, is against the privatisation and is capable of disrupting the business.
Nor will Royal Mail be especially big. With a market value of perhaps £3bn-ish, this famous name is not certain to be a member of the blue chip FTSE 100 share index.
But putting the clash between union and management to one side, Royal Mail is a business with better prospects than many in the UK.
Under its Canadian chief executive, Moya Greene, letter sorting has been automated, postmen and postwomen are walking longer routes pushing trollies laden with parcels, and growth has been generated by Royal Mail's large share of deliveries for booming online retailers.
Paradox
There has been a strong recovery in profits over the past three years - from a loss of £165m in 2011 to a profit of £324m before tax last year.
And here is the paradox. All of that has been achieved while Royal Mail was in public ownership, and yet Royal Mail's directors and the government yearn for the company to flee the embrace of the state.
They believe Royal Mail's recovery can only be sustained by escaping control by ministers - and becoming freed of the constraints imposed by the Treasury on capital spending. For them, the ability to borrow at will as a private-sector business, to finance further modernisation, is one of the main attractions of privatisation.
But the CWU would make the opposite case, that Royal Mail's rehabilitation has taken place thanks to the stability provided by government ownership - even stewardship by a coalition whose ideology is not that of a typical trade unionist.