The weather apps battling for your business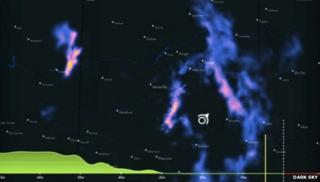 Picture this. You've wandered into a shop to grab a drink and just as the cashier is ringing up your purchase, boom, crack - the skies open up and it starts pouring rain.
What do you do: wait for the rain to stop or run to the car, hoping you won't get too wet?
That's the predicament that Dark Sky co-founder Adam Grossman found himself in one rainy day on a family holiday to Lake Erie in upstate New York.
"I had my iPhone on me so I pulled it out and I looked at the weather," remembers Mr Grossman.
"It told me 40% chance of rain, which was useless as it was obviously raining cats and dogs."
Thus, the idea for Dark Sky was born: a weather app whose sole purpose would be to alert you if it would rain in the next few minutes.
"The next hour is a time when the weather has the biggest impact on you," says Mr Grossman.
'We're not meteorologists'
Mr Grossman and his business partner Jack Turner launched Dark Sky in 2011. To secure the necessary capital they posted a video on crowdfunding website Kickstarter.
Within days, the project was backed by more than 1,200 people, with the total funds raised well over the initial $35,000 (£23,500) that Mr Turner and Mr Grossman had hoped for.
Dark Sky is now a popular paid app in Apple's AppStore, and Mr Grossman and Mr Turner have found themselves at the forefront of a slew of new, design-focused weather apps from start-up companies, such as Blue, Haze, and Weather Neu.
Unlike earlier generations of weather apps, these companies very rarely use their own data or simulations, instead relying on data from sources such as the US National Weather Service.
"We're not meteorologists nor do we intend this app to be used for scientific reasons," says Skylar Challand of the weather app Blue, which uses colours to convey, at a glance, what the weather is like outside.
Mr Grossman of Dark Sky is also not a trained meteorologist but comes from a physics background.
This lack of formal training has caused some friction in the meteorology community.
Veteran meteorologist Kevin Selle of Digital Meteorologist says that the new weather app companies "are pushing the bounds of information delivery and pushing the bounds of user interface and design".
He adds: "Weather was really an old, established business - it was either the weather service or television - so anything that pushes that forward is really good."
Yet Mr Selle cautions that the new apps' general reliance on so-called automated data sources could mean that severe weather might not be picked up, or aberrations might not be spotted, in time to give over-reliant users a heads-up as to what's actually going on outside.
It's a problem that Dark Sky's Mr Grossman acknowledges.
"The reaction is kind of split. We actually got a lot of - I don't want to say angry emails - but there's definitely a core subset of meteorologists who have a problem with our approach."
Dark Sky's software is able to predict storm movement within the next hour by studying National Weather Service radar data - much the same as human watching storm spots on a radar map. This is why the app is good at predicting what will happen in the next hour, but lousy at looking many days ahead.
Explosive growth
More than 120,000 people have now downloaded the Dark Sky app, which costs $3.99 (£2.70). That's just a drop in the bucket in terms of the lucrative business of weather apps.
According to a survey by the National Center for Atmospheric Research in 2009, nine out of 10 Americans regularly check the weather - more than 300 billion forecasts a year.
And as more and more people turn to their mobile devices to get information, the popularity of weather apps has exploded.
The native weather app on the iPhone is the second most-used app on the phone, according to a report by market research group NDP in 2012, and looking up the weather is one of the 10 most-cited reasons that smartphone users say they check their device.
So perhaps it's no surprise that established companies like the Weather Company (formerly the Weather Channel) have made millions on their weather apps - and perhaps it's less surprising still that small players like Dark Sky want to get in on the game.
"Weather apps can earn big bucks," says Clark Fredricksen of market research business eMarketer.
Core content
Needless to say, the competition to stand out is fierce.
"When you go into the iOS store [Apple's digital store] and you look up weather you will see a vast variety of choices," acknowledges WeatherBug chief marketing officer Amena Ali.
WeatherBug was one of the first mobile apps to hit the market, and unlike many of the design-focused newer ones, it uses its own data - in addition to data from the National Weather Service - for its forecasts.
"You can probably get a temperature and a forecast in any number of places," argues Ali.
"What we've seen with what's happening with the climate, in terms of more severe weather, you need to have core content that differentiates you [from your competitors]."
But the popularity of weather apps - fancy designs aside - might be more than monetary in nature. They speak to a fundamental human trait: the desire to better understand the world around us.
Eric Holthaus, a meteorologist who rose to fame with his tweets about Hurricane Sandy, is helping to build Weathermob, which uses crowdsourced data from more than 90,000 users in 135 countries to get real time weather information.
"Weather all around the world - that's one of the only things we all have in common," says Mr Holthaus.