Barratt house sales lifted by Help to Buy scheme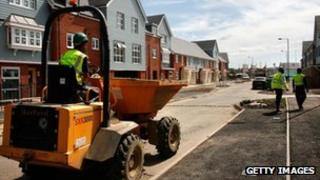 Housebuilder Barratt Developments says its full year profits will be stronger than expected, with the government's Help to Buy scheme boosting sales.
It said its sales rate was up 17.9% in the second half of its financial year, and up 34.7% since the launch of Help to Buy in April.
Barratt said full year pre-tax profits would be about £192m, "ahead of the top end of analysts' expectations".
The firm is the latest in the industry to report a boost from Help to Buy.
Redrow, Taylor Wimpey and Persimmon are among those to have benefitted. Recent house price surveys from the Halifax and Nationwide have also pointed to a recovery in the housing market.
"As more house buyers return to the market, supported by improved mortgage availability and the Help to Buy scheme, we are in a strong position to continue to grow the value of the business," said Barratt chief executive Mark Clare.
"Momentum is continuing to build and with forward sales up substantially, we are confident we can improve our performance still further in the year ahead," he added.
The company said it could reach its target of completing 16,000 homes earlier than expected, because of the extra demand, and that it had stepped up its land-buying - with more than £1bn worth of purchases.
It said there were improved market conditions across the country, with London and the South East seeing "the strongest trends".
In a separate statement, Barratt said it agreed a joint venture with Morgan Stanley to build 770 homes on the banks of the River Thames.