What next for the privatised Royal Mail?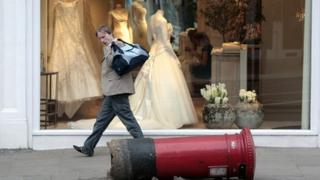 After some 20 years of discussion, the Royal Mail is finally being made ready for private owners, raising questions about what alterations will be made to the UK's postal network when it changes hands next year.
Initially, it seems, we may not notice much.
"You won't be seeing two posties running up to your door trying to outrace each other," says Ian Senior, an independent postal economist.
"Initially there will be no obvious change so don't expect anything fundamentally different in way the service is run."
Reassuring to fans of the current service, of whom, reading the comments posted on my colleague Robert Peston's blog on the subject, include the vast majority.
The main reason for the immediate continuity is the universal service commitment that the Royal Mail has to deliver mail six days a week to all the UK's 29 million homes for the same price.
Ensuring this is the primary duty of the regulator, Ofcom, as the Business Secretary, Vince Cable, said on Wednesday, which stands over and above Ofcom's other objective of improving competition so long as it improves things for consumers.
Wiggle room
The universal service is law, laid out in an act of Parliament passed in 2011 and that will not be changed by the incumbent government.
But there is wiggle room for other changes.
"One possibility is to extend the delivery hours to make savings," says Ian Senior.
"It used to be that post would be pretty much all through the letterboxes by about half past nine in the morning.
"Those delivery hours have already spread throughout the day and, in theory, could be spread further."
Many countries across Europe have privatised their post services, partly to comply with the European Commission's demand that these markets be freed up.
As the businesses have become more commercial, they have expanded their reach across borders, with TNT of the Netherlands and Deutsche Post DHL from Germany already long active in the UK in those areas where current regulations allow them to compete with the Royal Mail.
These, in theory, are nicely placed to move to take up the shares that will be released next year by the government.
Struggle
The service makes money. Its latest operating profits were £403m, but how attractive is Royal Mail as a current business?
While the universal service may be popular with the public, the letters business struggles to make money.
It is seeing a substantial fall in volumes every year, with the increasing use of email and social media combining with rising prices for first-class stamps to stem appetites for that sort of post.
The service is also popular with small businesses.
John Allan, the national chairman of the Federation of Small Businesses, said it had "serious concerns" about price rises and the level of service.
He said: "Recent sharp increases in postage costs, both of letters and parcels, have already had a negative impact on our members.
"Additional rises would only further undermine the ability of the smallest firms and start-ups to compete, and especially those who operate in the growing e-commerce field.
"Any weakening of the universal service obligation would only add to these problems."
The growth of online shopping, which is more popular in the UK than in any other European country, is where any future profit will come from and will be of crucial interest to any potential investors.
Cuts
But the universal service aspect of the business, enshrined for the foreseeable future, will be of equal interest.
Gary Davies, professor of strategy at Manchester Business School, said this requirement was one future owners would think hard about.
He said: "Price regulation is now relaxed but the universal service guarantee will remain, which is possibly more of a long-term business issue for potential investors than current threats that trade union activity will disrupt the business.
"This raises the question as to whether we really need a six-day-a-week delivery service.
Would a three- or four-day service suffice and if so what impact would this have on Royal Mail costs?
"Expect a privatised Royal Mail to lobby hard for a relaxation of the universal service conditions."
That is something Mr Senior also foresees.
He said: "Whatever form privatisation takes, the universal service will not wash - five years from now Royal Mail will only want to deliver three times a week.
"They could get rid of the Saturday delivery very easily."
Red
Another requirement new owners would be likely to want to change is the headcount.
Royal Mail has a 150,000-strong army of workers, which the government guaranteed would remain "mainly full-time" for a minimum of three years.
Other European privatisations, for example in Sweden, Germany and Finland, have seen staff numbers slashed and if the universal service is changed, far fewer will be needed, with experts saying the dwindling number of letters needing putting through the letterboxes could be delivered on alternate days.
One thing that Mr Senior thinks will not change, however, are the pillar boxes in their instantly recognisable shade of red.
"The post boxes will not change colour. It is a strong brand, and would cost a lot of money for no obvious benefit."
Traditionalists can take some heart from that at least.