Tribune media group plans to split into two divisions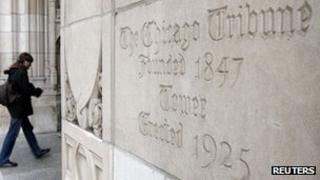 US media group Tribune plans to spilt its newspaper and broadcasting operations in a move that echoes the division of Rupert Murdoch's News Corp.
Newspapers such as the Chicago Tribune and Los Angeles Times will be placed into the Tribune Publishing Company.
Other operations, including 19 television stations bought last week for $2.7bn (£1.8bn), will be part of Tribune Company.
The company said it would give "greater financial and operational focus".
Tribune's chief executive Peter Liguori said in a statement: "Moving to separate our publishing and broadcasting assets into two distinct companies will bring single-minded attention to the journalistic standards, advertising partnerships and digital prospects of our iconic newspapers, while also enabling us to take advantage of the operational and strategic opportunities created by the significant scale we are building in broadcasting."
The plan still needs regulatory approval.
Tribune emerged from bankruptcy last year. Its newspapers have been struggling as advertising migrates to the internet.
Last month, News Corp formally hived off its publishing operations, which include the Times and Sun newspapers, from its profitable entertainment arm.