Dell investor wants court appraisal over buyout offer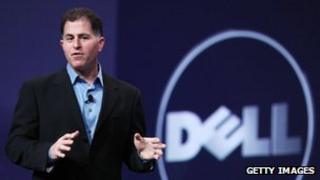 Billionaire investor Carl Icahn says he will go to court to get a better price for his stake in the computer maker Dell.
Mr Icahn says he will ask a judge to assess whether the $24.4bn (£16bn) buyout offer from a group led by Dell's founder represents a fair price.
He is urging other shareholders to demand a court appraisal too.
In May, Dell's board recommended that shareholders should accept an offer led by company founder Michael Dell.
Mr Dell and private equity group Silver Lake have offered $13.65 per share in cash to shareholders in return for taking the company private, which would see the company delisted from the stock exchange.
Better price
That was preferred to an offer from Mr Icahn and Southeastern Asset Management - who together own 12% of Dell.
Now Mr Icahn is urging shareholders to take legal action to get a better price for their shares.
In a letter to Dell shareholders Mr Icahn said: "We believe if you seek appraisal, you will receive more."
However, the appraisal process takes time, during which shareholders would have their money tied-up in Dell shares.
Strategy shift
The company has seen its profits fall amid declining sales of personal computers as more consumers shift to smartphones and tablets.
Mr Dell has pledged to shift the business away from PCs into mobile devices and business software.
Shareholders will vote on his takeover offer on 18 July.