Hyundai and Kia shares slide on China sales concerns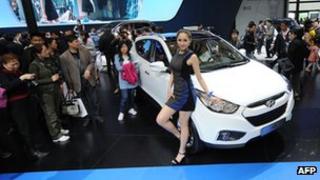 Shares of South Korean car makers Hyundai and Kia have fallen by about 5% on fears of a dip in sales in China.
The concerns were triggered after China's state-owned Xinhua news agency reported that eight Chinese cities were likely to implement curbs on car sales.
The move is being seen as an attempt by authorities to try to control high pollution levels in China.
China is the world's biggest car market and a key driver of growth for firms such as Hyundai.
"China accounts for about 20% of Hyundai Motor's total sales, and such news dampens its China sales outlook," said Suh Sung-moon, an analyst at Korea Investment & Securities.
According to the Xinhua report, the eight cities are Tianjin, Shenzhen, Hangzhou, Chengdu, Shijiazhuang, Chongqing, Qingdao and Wuhan.
If implemented, the restrictions could see car sales dwindle by about 400,000 units, it said.
Protests
Pollution levels in China have risen over the past few years and the country is now the world's biggest polluter.
Poor air quality has become a key political and social issue in China, and some of the biggest and most successful recent protests in China have been triggered by environmental concerns.
Anger over air pollution in Beijing, expressed mainly in online forums, led the local government to change the way in which it monitored pollution levels.
China new leaders have said that improving the quality of life for Chinese citizens is a key policy measure for them.
Last month, the government ordered firms in heavy-polluting industries to cut emissions by 30% by 2017.