UK car industry in £1bn 'low-carbon' funding boost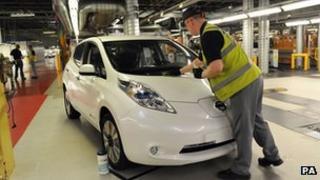 The government and the car industry are to invest £1bn building a new advanced propulsion centre, Business Secretary Vince Cable has announced.
Each party will invest £500m over the next 10 years in the centre, which will research and develop less polluting, low-carbon engines.
The government believes the venture could "secure at least 30,000 jobs... and create many more".
The sector has received £6bn of inward investment over the past two years.
"The UK automotive sector has been incredibly successful in recent times, with billions of pounds of investment and new jobs," said Mr Cable.
"This has been achieved by government and industry working together."
At the same time the government published a policy paper - Driving success: UK automotive strategy for growth and sustainability - outlining its future proposals for the industry.
Doubling jobs
In June, Mr Cable announced the setting up of the Automotive Investment Organisation (AIO), a body tasked with attracting inward investment into the sector.
The government says that foreign direct investment has "created or safeguarded" over 7,500 jobs over the past three years, and announced that the AIO is aiming to double that figure over the next three years.
The government also announced that the Technology Strategy Board, an agency set up to promote innovation in the UK, had launched a £10m competition aimed at encouraging low-carbon vehicle development projects.
Those with the greatest commercial potential will be developed through the new advanced propulsion centre.
The financial commitment is backed by 27 auto industry companies, including Nissan. Ford and Tata Motors.