S&P upgrades Ireland's credit outlook as debt falls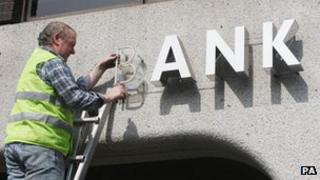 Standard & Poor's has upgraded its credit outlook for the Republic of Ireland from "stable" to "positive", arguing that the country's debts are falling faster than expected.
"Ireland's economic recovery is under way", it said.
Ireland lost its AAA credit rating in 2009 following the global financial crisis and it now stands at BBB-plus
But S&P said there was a one-in-three chance it would raise the country's credit rating in the next two years.
"The outlook revision reflects our view that Ireland's general government debt burden is likely to decline more rapidly, as a percentage of GDP, than we had previously expected," S&P said in a statement.
It expects that national debt will fall from 122% of gross domestic product (GDP) in 2013 to 112% by 2016.
Moody's remains the only credit agency still rating Ireland's debt as "junk".
The Republic of Ireland had to ask eurozone countries and the International Monetary Fund for bailout loans worth 80bn euros following the near collapse of its banking and property sectors.
It has since focused on reducing government spending and trying to return to economic growth.
In April, eurozone finance ministers rewarded the country's efforts by giving Ireland more time to repay its bailout loans.
"When you look at some of the cliff-hangers we have had in the rest of the periphery, Ireland has kept its head down and got on with it and I think that has been recognised," said Philip O'Sullivan, chief economist at NCB Stockbrokers.
But while there are some positive signs of recovery - falling unemployment and a stabilisation in house prices, for example - its economy contracted by 0.6% in the first quarter of 2013 as exports slowed and domestic spending shrank.
The country is technically back in recession for the first time in four years.
Despite this, S&P believes the Irish economy still has the potential to grow by 2% a year, in marked contrast to other eurozone bailout countries such as Greece and Portugal.