Loans to first-time buyers at five-and-a-half-year high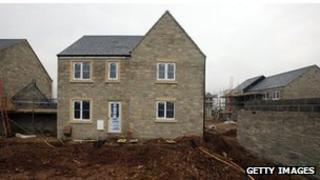 The number of first-time buyers taking out mortgages has hit its highest total for five and a half years, according to the latest figures from the Council of Mortgage Lenders (CML).
The CML said 25,000 people took out their first mortgage in May this year, a 42% increase on May 2012.
That is the highest number of first mortgages since December 2007.
The number of loans made to people moving home, or remortgaging, rose by 18.7% over the same period.
The government's Funding for Lending Scheme (FLS) is widely credited with making mortgages cheaper and more available, since it was launched in August 2012.
"Both the borrowing appetite of first-time buyers, and the availability of attractive mortgages for them, have improved markedly since a year ago," said Paul Smee, director general of the CML.
Under FLS, banks and building societies are able to borrow from the Bank of England at cheaper rates, providing they use the money to lend to individuals and businesses.
Despite the increases in lending recorded by the CML, the latest figures show that monthly lending is still running at half the level it was before the financial crisis.
The figures could also have been exaggerated by a relatively low uptake of mortgages in May 2012.
This was because of a change to stamp duty thresholds at the end of March 2012, which led many people to bring forward their house or flat purchases.
However, the first phase of the government's Help to Buy scheme has helped to boost lending to first-time buyers since its launch in April.
Borrowers can take an equity loan from the government to help them buy a new home, so only need to find a 5% deposit.