China's finance minister signals growth may fall below 7%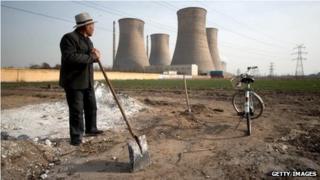 China's finance minister has hinted that economic growth may fall far below 7% in the second half of the year.
Speaking in Washington, Lou Jiwei thought growth for 2013 as a whole would be 7%, but said that even this may not be the "bottom line".
That figure is below Beijing's official 7.5% target, and below most economists' forecasts for the country.
Mr Lou's comments highlight how rapidly the country is slowing down, as Beijing seeks to rein in a construction boom.
He also caused some confusion by implying that 7% was now the government's target, even though the target was set at 7.5% in March.
Mr Lou said he expected growth for the first half of this year to come in at just under 7.7%, implying that he believes growth will slow to just above 6% in the second half.
Until last year, China had grown at an average rate of 10% a year for over three decades.
Throughout that period, the country has never underperformed the government's growth target, which have typically been much higher than 7.5%.
Difficult transition
Mr Lou's comments come after yet more economic data pointed to a sharpening slowdown.
On Wednesday, trade data for June fell far short of expectations, with both exports and imports down from a year earlier.
Electricity consumption - which is closely watched by analysts as a reliable economic indicator - rose just 4.9% in the first five months of the year from a year earlier. The growth rate was 5.5% in 2012, and 11.7% in 2011.
The newly-installed government of President Xi Jinping and Premier Li Keqiang is intent on rebalancing the economy away from reliance on investment, construction, heavy industries and exports, and towards consumer spending by China's growing middle class.
But the transition is expected to be difficult.
Consumer spending is starting from a small share of the economy - just a third of total spending, compared with 50%-70% in Western countries.
There are also fears of potential over-investment and bad debts in the construction and industrial sectors, which could come to light as cheap loans to these sectors are cut back.
Last month, the Chinese inter-bank lending market briefly froze up, suggesting that some Chinese banks harbour doubts about the financial health of their peers.
'Nurture your virtue'
The new government has also been cracking down on corruption and profligacy by Communist Party officials.
The theme was taken up on Friday by Zhang Yi, who heads the regulator supervising China's state-owned businesses.
He told a gathering of 150 business executives to take up the fight up against corruption and nepotism.
"Cultivate your moral character and nurture virtue," he said.
"Properly manage your relatives and those close to you. Don't be encumbered by your emotions, damaged by your emotions or misled by your emotions."
Many ordinary Chinese have become outraged by corruption and privilege.
Previously it was seen as a problem at the local government level, but recently it has also attached to senior politicians.
Among the scandals to hurt the leadership have been the public ousting of Chongqing party boss Bo Xilai last year, and the high-speed chase and crash of a Ferrari belonging to the son of an unnamed senior party official.
On Tuesday, former Railways Minister Liu Zhijun was handed a suspended death sentence for accepting bribes in connection with the construction of the country's high speed rail network.