TUC says most jobs growth is in low-pay sectors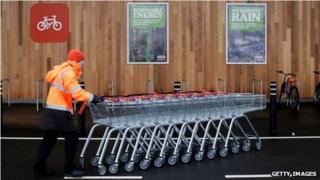 Most jobs created since the recession are in low-pay industries such as retail, table waiting and residential care, a TUC report has claimed.
The report said nearly 80% of the 587,000 net new jobs since June 2010 have been in sectors where the average pay is £7.95 an hour or less.
The TUC said people were being forced to take these lower-paid jobs after being made redundant.
The highest paid sectors have also seen jobs growth, the union body said.
There has been net jobs growth in areas like computing, for example, which pays an average of £18.40 an hour.
But net job creation in middle income jobs stagnated after 2010.
The report's calculations were based on the median wage earned in each respective industrial sector.
"One of the unreported struggles of recent years has been people being made redundant from middle-income jobs and having to take low-paid, low-skill jobs as it's the only work available," said Frances O'Grady, the TUC general secretary.
"Many people who are forced into low-paid work are not only having to take a massive financial hit, but are having to put their careers on hold."
The report noted that while employment in low-paid industries was the hardest hit during the 2008-09 recession, it has since recovered to a record high of 6.4 million jobs.
Total jobs in the highest paid sectors - which weathered the recession far better - have also risen to hit a record high of 900,000.
Although there was negligible overall growth in the number of medium-paid jobs during the period, there was considerable change in some industries.
Legal and accountancy employment rose by 135,000, while public sector jobs, such as in administration and social work, have become more scarce.