Vince Cable proposes tougher rules for directors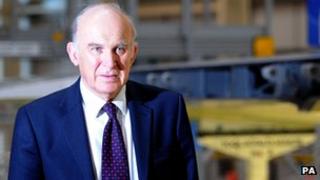 Fraudulent or negligent directors of UK companies may have to pay compensation to creditors under new proposals.
It is one of several measures proposed by the Business Secretary, Vince Cable, in a speech at the London Stock Exchange.
As well as making directors accountable for failure, Mr Cable proposed measures that would make it clearer who owns and controls companies.
He said that should help tackle tax evasion and money laundering.
"With a strong commitment coming from the G8, we're now shining a light on who really owns and controls companies in the UK.
"We're also proposing tough measures to beef up the system for holding directors to account if they don't play by the rules or take their responsibilities seriously," Mr Cable said.
Under his proposals:
Courts would be able to take into account whether wider society has been hurt by the actions of a director when deciding whether or not to disqualify.
The time limit for taking action to disqualify would be extended to five years from two years.
Courts would have the power to make compensation awards against a director when making a disqualification order.
To tackle transparency Mr Cable wants to companies to supply information on owners and controlling shareholders.
That would include ending so-called "bearer shares" which allow ownership of a company, but do not identify who owns those shares.
'Experience'
Business groups welcomed the consultation but expressed concern that the measures could go too far.
Simon Walker, Director General of the Institute of Directors, said: "Businesses can and do fail. But this experience should not necessarily spell personal financial disaster for a director, or prevent a director from trying again."
Responding to the proposals, shadow business secretary, Chuka Umunna said: "Since the Tory-led government came to office the number of actions taken against suspected fraudulent or reckless directors has fallen at the same time as the number of incidences of suspected fraud has increased."