Tunisia tourism industry looks to rebuild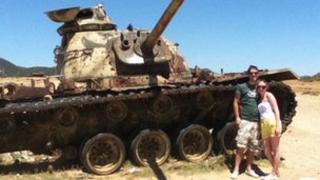 British tourist Victoria Robinson is just the kind of visitor Tunisia wants, keen to talk about how much she enjoyed her recent holiday to the North African country, with no signs of threats towards foreigners.
"There was not one time in the whole trip I felt unsafe," says Victoria, who travelled around the country with her boyfriend Tom.
"That involved walking around the beach in the evening, going walking around the harbour, around the town. We even went quad biking in the mountains and the desert and we felt 100% safe."
Two and a half years ago, as the Jasmine Revolution ousted dictator Zine El Abidine Ben Ali and brought violence to the streets of Tunis, holidaymakers abandoned plans to visit Tunisia.
Tourism, a key driver for the economy, collapsed as visitors, mostly Europeans, chose other destinations.
However the return of stability, with elections planned later this year, has prompted a recovery in the industry, although growing protests could put that in danger.
'Nice and friendly'
But Victoria is quick to dismiss fears of holidaymakers being affected by the protests.
"Everyone was saying how the people were nice and friendly. There were so many families and children enjoying themselves you'd never think there was any talk of unrest or anything," she says.
"I didn't see any trouble or anybody shouting or being aggressive or anything, so I don't think there's any issue."
Tunisia's minister of tourism, Jamel Gamra, is confident that visitors are returning to the country.
"Last year we could [have] recover[ed] two-thirds of what we lost the year of the revolution and we are aiming this year to come back to the figures of 2010," Mr Gamra told the BBC.
"Actually we are aiming to have seven million tourists from all over the world, half of them are coming from northern Europe."
Russians
The minister's optimistic predictions might seem ambitious, especially when millions of Europeans are out of work.
"The European tourist is not so good now because they have the financial problems," says Luciano Longo, whose company Pegase offers camel trips in the desert from Douz, the gateway to the Sahara.
"They are not very good clients."
But he adds: "Now the best tourist is a Russian tourist."
He also dismisses fears about anti-government protests. "No problem, no problem in Tunisia," he insists, "after the next political elections, we will recover an important lot of tourists."
British bookings up
The Association of British Travel Agents (Abta) has noticed a significant increase in holidaymakers booking a trip to the North African country.
Abta's Gillian Edwards told the BBC: "We're seeing people flocking back to Tunisia, the bookings are actually 50% up over what they were last year.
"There's been a lot of advertising over here, they're trying to broaden out the appeal of Tunisia."
She says Abta is watching developments with the anti-government protests, but has no current concerns for tourists.
'Fragile' situation
The British Council in Tunis acknowledges the political situation is delicate, but according to Nigel Bellingham, country director for the cultural and education body, "Everybody is hopeful.
"The situation is fragile at the moment, with lots of political discussions going on. But I think it's a much more stable situation than other Arab Spring countries at the moment and of course we're all very hopeful," he says.
Tourism minister Jamel Gamra says that for Tunisians "the revolution is behind us" and they now want to improve their economic situation.
The importance of tourism - and investment in tourism - to the economy cannot be understated, he says.
"We're absolutely conscious of the importance of tourism for our economy," he says. "It employs more than 400,000 people, it is the second foreign currency provider for our economy and we have to promote investment in this sector."
He adds that one unintended consequence of the revolution was it led to a dramatic fall in the value of the Tunisian dinar, meaning European tourists get more value for their money.
"Maybe we have good news to tell our tourists because we have a special trend for our currency, which is going slightly down for many years and the trend is still going that way," he says. "This is an advantage for our tourists."
One fig autumn
But as protests against the ruling moderate Islamist Ennahda party continue it is obvious the economic and political fruits of the Jasmine Revolution have yet to be truly realised.
With elections due later this year, Mr Gamra hopes they will bring more stability.
Until then, he would do well to heed an old Tunisian proverb that urges caution: "He ate one fig and he thought the autumn had come."