India eases foreign investment rules to boost growth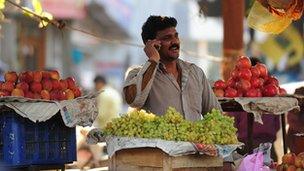 India has further eased rules on foreign direct investment in a range of industries in an attempt to support the sliding currency and boost growth.
Senior cabinet ministers and Prime Minister Manmohan Singh approved the plans at a meeting late on Tuesday.
The move will allow 100% foreign ownership in the telecommunications industry, up from 74% at the moment.
The reforms still need clearance from the full cabinet.
In September last year, the government announced the opening up of India's huge retail sector to foreign supermarkets, which led to protests in the streets from small shop owners.
Tuesday's move would allow companies such as Britain's Vodafone Group and Norway's Telenor ASA to operate in the country without the need to partner with an Indian company.
Restrictions in a dozen other industries including insurance and tea plantations would be relaxed or abolished, said Commerce Minister Anand Sharma.
"We expect more foreign direct investment to flow in with these decisions," Mr Sharma said at a press conference.
In the defence sector, the cap for foreign direct investment will remain at 26% but proposals beyond that will be assessed on a case-by-case basis.
Economist say attracting investors is key to bolstering India's economy, which expanded at its slowest pace in a decade.
The Indian rupee has fallen in value to record lows in recent weeks, hitting an all-time low of 61.21 against the US dollar.