BHP Billiton reports record iron ore output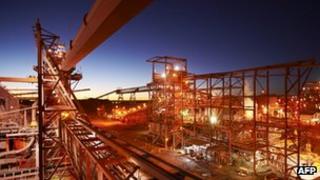 Mining giant BHP Billiton has reported record full-year production at its iron ore operations.
BHP said that production had jumped by 9% to 187 million tonnes for the year to 30 June.
On Tuesday, competitor Rio Tinto also reported record output figures.
Analysts said it meant that the commodity giants were betting on continued strong demand from China, despite the country's economy seeing a slowdown in growth.
"You'd have to suggest that they feel quite comfortable with what they're seeing in terms of their major customer, which is China," said David Lennox from research firm Fat Prophets.
"Even though its June quarter gross domestic product [growth] had slowed from 7.7% down to 7.5%, at that rate of growth China will still be requiring significant volumes to feed its appetite for growth."
Work to increase BHP's output capacity to 220 million tonnes a year is expected to be finished in December of this year, ahead of schedule, the company said.
Iron ore is still the biggest earner for BHP despite a sharp fall in commodity prices over the past year.
In the April to June quarter, iron ore output rose 17.7% to 47.6 million tonnes compared with the previous year. The company plans to boost that production to 217 million tonnes in the 2014 financial year to fulfil demand from China and other Asian economies.
Copper production at BHP's Escondida mine in Chile also rose by 28% to 1.1 million tonnes.
"A strong year of production as two of our major assets, Western Australia Iron Ore and Escondida, exceeded production guidance and annual records were achieved across seven operations and five commodities," the miner said in its report.
BHP has recently seen its profits squeezed by falling commodity prices and the strength of the currencies in its major production countries of Australia and Chile, which has pushed up costs.