China foreign investment growth hits two-year high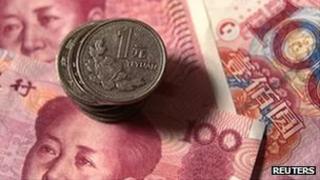 Foreign direct investment (FDI) in China grew at its fastest pace in more than two years in June.
Investment rose 20.1% from a year earlier to $14.4bn (£9.5bn), according to the Ministry of Commerce.
The surge, which even the state-owned Xinhua news agency described as a "surprise", comes amid a recent slowdown in growth in China's economy.
Analysts say the figures indicate investors are hopeful that China's economy will continue to grow robustly.
"The June FDI data shows overseas investors are still optimistic on the outlook of China's economy in the medium and long term thanks to China's recent efforts to move the economy up the value chain and its strong domestic consumption," said Li Wei, China economist at Standard Charted Bank in Shanghai.
He added that foreign investment in China in the second half of the year was likely to be even stronger than that in the first six months of the year.
According to the latest figures, foreign investment in China during the January to June period rose by 4.9% from a year earlier.
Attracting investors
After decades of blistering expansion, China - the world's second-largest economy, has seen its growth rate slow in recent months.
Data released earlier this week showed that its economic growth rate waned in the April to June period, the second straight quarter of weaker expansion.
China's economy grew at an annual rate of 7.5% during the period, down from 7.7% in the January to March quarter.
Its growth has been hurt by a slowing demand for exports from key markets such as the US and Europe, as they grapple with their own set of economic problems. At the same time, policymakers have found it tough to boost domestic consumption.
Prompted by the slowdown, Beijing has been keen to open up its markets to foreign investors in an attempt to spur a fresh wave of economic growth.
Earlier this month, the China Securities Regulatory Commission (CSRC) raised the cap on the total amount of money foreign investors can bring into the country. It increased the quota for Qualified Foreign Institutional Investors (QFII) to $150bn.
This is the second time in a space of four months that the regulator made such a move. It had previously raised the limit to $80bn from $30bn in April.
In November, China said that it will "simplify" procedures for foreign direct investments, including new rules under which investors will not require approval for opening foreign currency accounts or for re-investing foreign exchange earnings.