Billabong shares jump after refinancing plan announced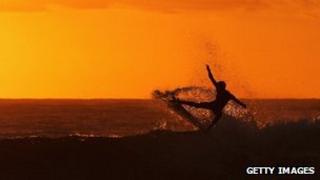 Shares in Billabong have jumped by 34% in Sydney after the struggling surfware maker announced a refinancing deal.
Investment firm Altamont Capital Partners will provide a $300m (£199m) bridging loan facility, and will also receive an option to buy a 15% stake in the firm.
Billabong fell into financial trouble after an international expansion loaded the company with debt.
Attempts to find a buyer for the firm over the past year led to nothing.
Last month, Billabong issued its third profit warning in six months, blaming weaker trading in Australia and higher-than-expected start-up costs for a new business.
Under the refinancing plan, chief executive Launa Inman will be replaced and Altamont will also buy Billabong's DaKine business for $64m.
Based in San Francisco, Altamont is a private equity firm with $500m in funds for investment.
Its refinancing deal for Billabong still needs approval from shareholders at the Australian firm.
Billabong is due to release results for the financial year to 30 June next month.