Betting firms to fund anti-match fixing programme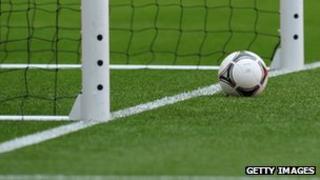 An education programme which aims to stamp out corruption and match-fixing among athletes has been extended after funding from three betting firms.
The Professional Players Federation (PPF) has signed a three-year gambling education partnership with bookmakers bet365, Betfair and Ladbrokes.
The PPF is an umbrella organisation representing more than 15,600 sportsmen and women in the UK.
Now some 7,500 UK professional athletes will learn about gambling integrity.
Sports Minister Hugh Robertson MP said the arrangement would "help safeguard sport from cheats".
"Educating players on betting integrity is a vital tool in the fight against corruption." he added.
John Coates, joint chief executive of bet365 and chairman of the Remote Gambling Association, said major betting operators understood the importance of having corruption-free sport.,
This is the second three-year deal between the PPF - which represents 11 sporting bodies - and the betting industry.
An earlier programme delivered face-to-face betting education to 5,620 athletes, and also established e-learning programmes.
"Over the next three years we will expand the programme to reach more sports; find new ways to keep the messages fresh; and continue to make sure that British sportsmen are some of the best educated in the world about the dangers of match fixing," said PPF chairman Brendan Batson.