Can cowboys help avert a cash crisis in Pennsylvania?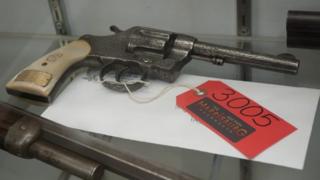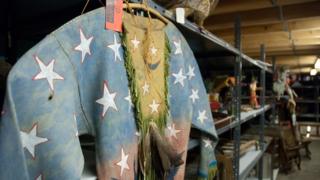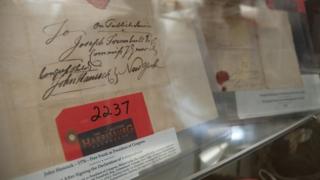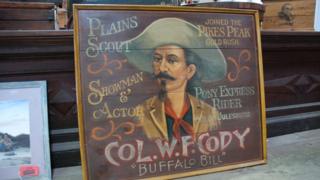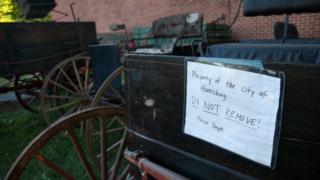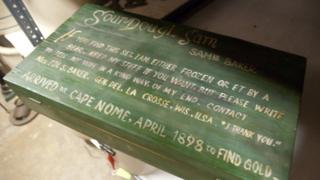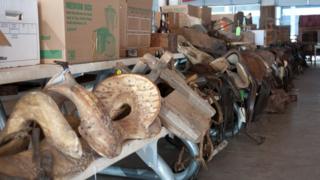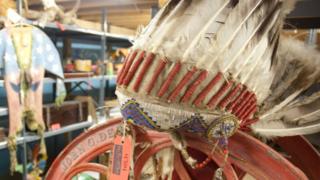 It would be easy to walk straight past the plain white garage behind Harrisburg's baseball stadium if it were not for the towering bronze statue of a horse and cowboy right outside it.
But peer inside and something rather unusual is taking place there this week. Dozens of people sit on fold-up chairs, taking part in what has been billed as the biggest ever Wild West auction.
On one side of the room Western-style saddles and cowboy memorabilia are piled up on tables, making up just some of the 8,000 items on sale. On the other side, a row of people watching the thousands of online bidders keen to get a piece of cowboy culture.
Among the main draws are US marshal Wyatt Earp's gun and the dentist's chair that belonged to Earp's friend Doc Holliday.
"Lot number 17 - $150, is there any advance - $175?" shouts the auctioneer at the front, trying to bid up the price of a schoolhouse clock. "Last chance, $175 for bidder number 800."
And with that, the city of Harrisburg is $175 richer. It may not sound like much, but the hope is that the money raised from this auction will help improve the city's finances - a city whose 50,000 residents are some of the most indebted in the country.
Investments in the Wild West
But how has a city in America's east come to own so many Wild West artefacts?
According to Arlan Ettinger of Guernsey's Auctioneers, it was the brainchild of former Harrisburg Mayor Stephen Reed, who was in office for 28 years.
"He had a vision for producing and creating a museum devoted to America's West - the old West, which is the stuff cowboys and Indians are made of," says Mr Ettinger.
"Although his concept was universally applauded, how he went about achieving the goal wasn't exactly, dare I say it, kosher."
But the recession meant that the Wild West museum never got off the ground - instead these items sat in a dusty warehouse in the city's suburbs for years.
Sheila Dow-Ford was one of many residents who came to walk around the warehouse ahead of the sale, recording on her iPad what she sees as public money misspent.
"It is representative of a government that was out of control, where there were no restraints," she says. "It is symbolic of how, if you allow one person carte blanche, this is what can happen."
Burning money
But this museum project is just a small part of the problem - and the money raised will go towards easing a cashflow crisis the city's facing.
The bulk of Harrisburg's debt - some $350m (£230m) - comes from the city's incinerator, which rather coincidentally is right next door to the Wild West warehouse.
Harrisburg owes this money thanks largely to municipal bonds it guaranteed to finance the overhaul and improvements of the city's incinerator.
When the incinerator failed to make back the money that the city had invested in it, that led to Harrisburg filing for bankruptcy in 2011.
But that was a move that was ruled illegal, so Harrisburg was eventually put into state receivership to help oversee the city's financial recovery.
A plan has now been put together to improve its finances by selling the incinerator as well as other city assets to help pay back creditors.
The past few years have been hard on Harrisburg's residents. According to Robert Philbin, the chief operating officer for the city of Harrisburg, income and property taxes have risen, jobs have been cut and so have some city services. But he says things are getting better.
"We're on the cusp of a recovery - we just need to communicate that and get some optimism going in the city and it's out there," he says.
"People who realise what's going on with the liquidation from the assets are aware that that's imminent and we've got a better future to look towards in 2014."
Future funding
But Matt Fabian of Municipal Market Advisors in Concord, Massachusetts, says the money the city is raising is still not enough to pay off what's owed on the incinerator bonds.
"They are depending on the bond insurers to just forgive - and there's no way that will happen," says Mr Fabian. "Harrisburg has major issues that are not even close to being reconciled."
Back at the bidding, there are still a few choice pieces that the city and the auctioneers hope will boost Harrisburg's finances.
Wyatt Earp's gun is expected to draw big bids, as is as a letter from George Washington - it has a guide price of between $15,000 and $25,000.
It may be small change compared to the big bucks owed to creditors - but the pieces - and the money they are raising - are certainly putting a smile on many a Harrisburg resident for the time being at least.