Vodafone revenue hit by weakness in Europe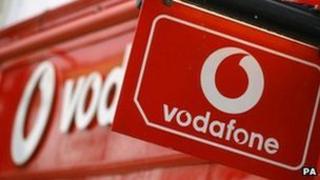 Vodafone has reported a fall in underlying service revenues as growing competition and the economic downturn in Europe hit trading.
The mobile phone operator said underlying revenues for the three months to 30 June fell by 3.5%.
Revenues in Germany - its largest European market - fell 5.1%, and they dropped 4.5% in the UK.
The weakness in Europe offset better news from emerging markets, with revenues in India up 13.8%.
'Strong foundations'
Vodafone said that conditions in Europe "remain challenging due to ongoing economic and regulatory pressures and increased competitive intensity within some markets".
Service revenues in southern Europe fell by 14.4%, with a 17.6% decline in Italy and a 10.6% drop in Spain.
Despite the falls, the 3.5% drop in overall revenues was in line with expectations, and Vodafone confirmed its outlook for the full financial year.
"Although regulation, competitive pressures and weak economies, particularly in Southern Europe, continue to restrict revenue growth, we continue to lay strong foundations for the longer term," said chief executive Vittorio Colao.
Last month, Vodafone has agreed to buy German cable operator Kabel Deutschland for 7.7bn euros (£6.6bn; $10bn).
The deal has been seen as a change in strategy for Vodafone as it marks its first foray into consumer broadband and television.
It will mean Vodafone has around 32.4 million mobile, five million broadband and 7.6 million direct TV customers in Germany.