Liverpool extends Standard Chartered sponsorship deal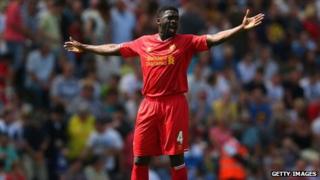 Standard Chartered bank has extended its sponsorship of Liverpool Football Club for a further two years.
The deal will run at least until the end of the 2015-16 season and is believed to be worth at least £20m ($30m).
The bank has been the club's main shirt sponsor since July 2010.
Although based in London, the bank makes almost all its money in Asia, the Middle East and Africa - regions where Liverpool have a large following.
"Liverpool are hugely popular in the markets where we do business, and we are excited about the opportunity to continue to work with this fantastic club and their passionate fans," said Peter Sands, chief executive at Standard Chartered.
Liverpool have just embarked on a tour of Asia and Australia, which will see them play in front of crowds in Jakarta, Melbourne and Bangkok.
The Premier League is one of the UK's most lucrative exports, with foreign TV rights for the next three seasons worth an estimated £2bn.