GlaxoSmithKline says China executives have broken law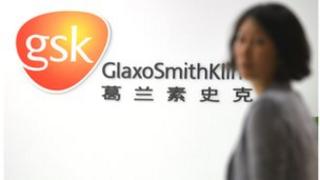 GlaxoSmithKline says senior executives in its China office appear to have broken the law amid a bribery scandal.
"We have zero tolerance for any behaviour of this nature," said Abbas Hussain, the UK pharmaceutical firm's Asia Pacific business head.
The acknowledgement comes as GSK says it is co-operating with a Chinese investigation into alleged bribing of doctors to prescribe the firm's drugs.
Meanwhile, rival AstraZeneca said one of its staff was also being questioned.
AstraZeneca said on Monday that the Chinese police had visited its Shanghai office on Friday and taken the employee away.
GSK shares closed down 1.22% in London business.
Money transfer
It comes after several GSK employees have been detained.
The firm's British head of finance in China, Steve Nechelput, has been subject to a travel ban since the end of June, GSK acknowledged on Thursday.
"GSK is taking this situation extremely seriously and that is why we are here," said Mr Hussain in a statement.
"Certain senior executives of GSK China who know our systems well, appear to have acted outside of our processes and controls which breaches Chinese law
"I want to make it very clear that we share the desire of the Chinese authorities to root out corruption wherever it exists. We will continue to work together with the [Chinese Ministry of Public Security] and we will take all necessary actions required as this investigation progresses."
He also said that the company would cut its prices in China.
Last week, police in China said GSK had transferred 3bn yuan ($489m; £321m) to travel agencies and consultancies to facilitate bribes to doctors.
Chinese authorities have taken into custody four Chinese executives at GSK in connection with the allegations.
They accuse GSK of using travel agencies to bribe government officials, doctors and hospitals in order to boost sales and prices of their drugs. The investigation began at the end of June, police said.
One of the four executives, vice-president and operations manager Liang Hong, appeared on state television on 16 July and said he had funnelled money through travel agencies for arranged conferences, some of which were never held.
GSK's general manager for China, Mark Reilly, is said to have left the country for Britain last month.
The Chinese authorities have said that similar transfers were made by other pharmaceutical multinationals, but without naming any.