High frequency trader fined more than $3m by regulators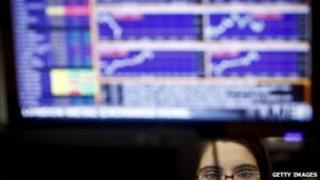 Financial regulators in the UK and US have fined a high frequency trader and his firm more than $3m (£1.95m) for manipulating commodities markets.
The UK's Financial Conduct Authority (FCA) fined Michael Coscia $903,176, while two US regulators levied the rest on him and his company, Panther Energy.
High frequency traders use ultra-fast systems to place buy or sell orders far quicker than can be executed manually.
It is the first time the FCA has taken action against a high frequency trader.
Between 6 September 2011 and 18 October 2011, US-based Mr Coscia used algorithmic programs that he developed to create false orders for oil and gas on trading exchanges in the US and UK.
He made about $1.4m during the period using a computer program which placed and quickly cancelled trades to manipulate the price of commodities, an illegal process known as "layering" and "spoofing".
Tracey McDermott, the FCA's director of enforcement and financial crime, said: "Mr Coscia was cheating the market and other participants.
"High frequency trading and the use of algorithms are an important and commonplace part of the markets nowadays but in this case these techniques were deliberately designed to abuse the market, undermining its integrity.
"This is unacceptable, which is why we have taken tough action to punish Coscia and deprive him of any benefit he acquired."
Mr Coscia received a 30% discount on the fine by agreeing settlement under the FCA's executive settlement procedures; otherwise he would have been fined just over $1.15m.
The US regulator, the Commodities and Futures Trading Commission, fined him and his company $1.4m while the Chicago Mercantile Exchange fined them $800,000.
High frequency trading is coming under increasing scrutiny by regulators. Automated trading was blamed for exacerbating the "flash crash" on Wall Street in May 2010, when blue chips went briefly into freefall, and then recovered almost as quickly.