US existing home sales dip unexpectedly in June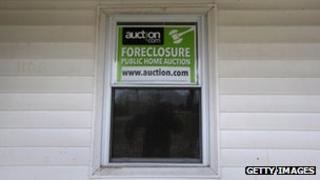 Sales of existing homes in the US dropped slightly in June, according to latest monthly figures.
Sales fell 1% to an annual rate of 5.08 million, from a downwardly revised 5.14 million in May, the National Association of Realtors said.
The surprise fall suggests a sharp rise in mortgage borrowing rates seen at the end of the month may have affected activity sooner than expected.
The average 30-year mortgage rate rose from 3.68% to 4.07% in the month.
This brought the interest rate back up to its highest level since October 2011.
Conditions 'favourable'
Borrowing costs began to rise sharply in late June as markets began to anticipate that the US Federal Reserve would curtail its monetary stimulus measures and then begin raising interest rates far sooner than previously thought.
Despite this, analysts had been expecting property sales to continue rising for another month, to 5.27 million on an annualised seasonally adjusted basis.
The dollar weakened on the result, with the euro gaining a further half cent to $1.321.
"Affordability conditions remain favourable in most of the country, and we're still dealing with a large pent-up demand," said Lawrence Yun, chief economist at the estate agents' industry body behind the statistics.
"However, higher mortgage interest rates will bite into high-cost regions of California, Hawaii and the New York City metro area market."
Despite the dip, sales remain near a three-year high. The housing market rebound has also seen a steady recovery in property prices and an uptick in the previously moribund homebuilding activity.
In another sign of healthy, the share of "distressed" sales - properties that have been repossessed by mortgage lenders, or which are forced into sale in order to repay a defaulted mortgage - dropped to just 15%, from 18% in May and 26% a year ago.
Distressed sales, typically carried out at a significant discount, have weighed the market down and made it much harder for homebuilders to offer new properties at attractive prices, depressing the construction sector.