GSK expects 'some impact' from bribery probe in China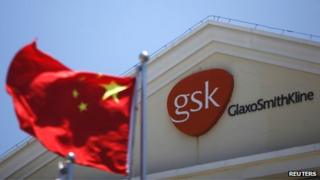 GlaxoSmithKline (GSK) expects "some impact" on its financial performance from a bribery investigation in China.
However, the pharmaceutical giant said it was "too early to quantify" the extent of the scandal.
GSK has been accused by Chinese authorities of directing up to £320m through travel agencies to facilitate bribes to doctors and officials.
On Monday, GSK said senior executives in its China office appeared to have broken the law.
Several GSK employees have been detained over the last few weeks and the firm's British head of finance in China, Steve Nechelput, has been subject to a travel ban since the end of June.
'Deeply disappointing'
GSK's chief executive, Sir Andrew Witty, said that it appeared the investigation was centred on a number of senior executives in China who were allegedly operating outside of the company's systems and processes.
He described the situation as "shameful" and "deeply disappointing".
"We have zero tolerance for this behaviour and are committed to rooting out corruption," he said.
"Unfortunately, there is a risk that some individuals can operate outside our systems and controls," he said, adding, "99.99% of the people in GSK operate within the rules."
Sir Andrew said that GSK remained "fully committed" to China and that the company had "many important medicines and vaccines which will be important to the Chinese people".
He added that it was too early in the investigation process to tell whether or not criminal charges might be laid against the company itself by the Chinese authorities.
BBC business editor Robert Peston tweeted: "Disappointing press conference with Sir Andrew Witty on GSK's China scandal. He said less than already in public domain, and rowed back from admission of guilt."
Meanwhile, GSK announced a 2% rise in second-quarter group sales, to £6.62bn ($10.17bn).
The company has been struggling of late owing to loss of patent protection on some of its medicines and falling prices in austerity-hit Europe.