Ford profits boosted by US and China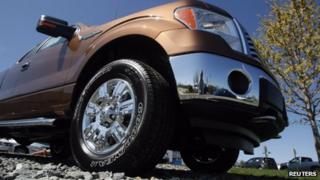 Carmaker Ford has reported healthy profits thanks to strong demand in its home US market and in China, which offset more losses in Europe.
Ford said it made $1.2bn (£781m) in the three months ending in June. Profits of $2.3bn in North America made up for losses of $348m in Europe.
In the US, the company has benefited from a rise in sales of pick-up trucks since the beginning of the year.
Ford sales have also risen by nearly 50% in the growing Chinese car market.
That compares with a 17% sales rise in the market as a whole.
In the US, Ford's best-selling model is its F-series pick-up, which has has benefited from the 22% overall rise in pick-up sales over the last six months.
Losses in Europe have continued to hit the company's profit line. However, Ford now expects to record a pre-tax loss of about $1.8bn in Europe during 2013 - that is the same as last year and lower than a previous estimate of about $2bn.