Rio de Janeiro's World Cup and Olympic hostels boom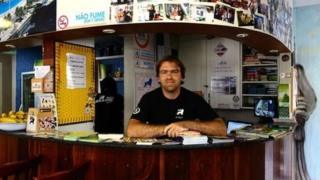 While Rio de Janeiro takes pride in its nickname of "The Marvellous City", as far as hotel accommodation goes, Brazil's tourism capital could more accurately be called "the expensive city".
With Brazil's own tourist board recently bemoaning the fact that Rio has the third most expensive hotel rooms in the world, getting a bed for the night in the city has never typically been wallet-friendly.
According to the latest figures from the tourism authority, the average cost of a hotel room in Rio is now $247 (£161) per night.
Its report says that only Miami ($294) and Punta Cana in the Dominican Republic ($247) are more expensive. Global tourism hotspots like New York ($246) and Paris ($196) are both cheaper than Rio, its survey found.
The high price of hotels in Rio is put down to a number of factors, including insufficient supply, the city's enduring popularity as a holiday destination, and Brazil's strong economic growth boosting domestic tourist numbers.
Yet with the city due to hold the final and other key games in next year's football World Cup, and host the 2016 Olympics in its entirety, the price of its hotel rooms are only like to rise further as hoteliers take advantage of the additional spikes in demand.
Thankfully, a growing number of hospitality sector entrepreneurs are coming to the rescue of cash-strapped tourists, and Rio is seeing a boom in the establishment of hostels - the lower cost, dormitory-based, shared bathrooms alternative to hotels.
Commercial potential
Hostels may have long been popular with independent travellers on a budget, but in Brazil they are a relatively new phenomenon.
It was in fact only in 2006 that the first hostels opened in Rio and Sao Paulo. At the time the concept of sharing a bedroom with strangers was a novelty for Brazilians, but a growing number have since learnt about their advantages - especially the much lower price.
Today official figures show that Rio has 72 hostels, used by both foreign tourists and travellers from across Brazil. And the number of hostels in the city is continuing to grow quickly as the World Cup and Olympics get closer.
Typically the price of staying in a hostel in the city starts from just $25 for a bunk bed in a large dormitory.
Gustavo Pira, a lawyer, and his friend Joao Daltro, a financial market specialist, are two people who decided to open a hostel in Rio after they realised the big commercial potential that the World Cup and Olympics offered.
Their hostel Meiai opened in the middle-class, beachfront community of Botafogo earlier this year.
"There was a lot of talk going on about the lack of rooms to receive all the visitors the city would be receiving," says Mr Pira. "That's when we got interested [in opening a hostel]."
Mr Pira and Mr Daltro started by studying the competition for six months, and putting together a detailed business plan.
While they have chosen not to reveal the cost of opening their hostel in the city, they said it can vary from about $140,000 to $1.3m, depending on factors including whether the building is being rented or purchased, its size, and the level of amenities on offer.
Rodrigo Leporage is another businessman who decided go into the hostel sector, opening the Rio Rockers venue in Copacabana, Rio's main tourist area, back in 2006 with his father and brother.
He said that back then there were only three or four other hostels in the neighbourhood, but that today he has lost track of the number.
"The advantage for us, hostel owners, is that suddenly it became very expensive to come to Rio. And hostels arose as an interesting alternative," says Mr Leporage.
Safety concerns
But while Rio officially has 72 hostels including the likes of Meiai and Rio Rockers, Luis Geraldo, the local director of trade body Hostelling International, and manager of the Copa Hostel, also in Copacabana, says the actual number now surpasses 200 after growing by 30% in the past year.
He is concerned that many unscrupulous hostel owners deliberately avoid getting registered so they do not have to meet safety standards.
"Many of them don't have all the required papers, such as fire department authorisation and municipal, state and federal registration, and therefore they don't show up in official accommodation statistics," says Mr Geraldo.
At the same time as Rio's hostel community needs to clamp down on such bad apples, the city's hotels sector is also busily increasing the number of hotels and available rooms ahead of the Olympics.
Not that commentators think the cost of hotel rooms in Rio will do anything but soar during the World Cup and Olympics, despite threats by the government to clamp down on "abusive" prices.
This is all good news for hostel owners, and back at the Meiai hostel, Mr Pira is confident all its 60 beds will be filled for the two big events.
"It's great for the hostels sector in Rio," he says.