BT Sport signs up half a million in Sky battle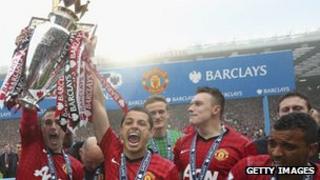 BT says it has signed up more than 500,000 subscribers to its television sports channels ahead of the new football season.
BT Sport is being launched in August as part of the company's plans to compete with Sky and boost revenues.
But the majority of its subscribers are existing BT broadband customers offered the new channels for free.
The update came as BT reported pre-tax profits of £449m for the three months to June, above analysts' expectations.
The company has secured the rights to 38 Premier League matches in the coming season, compared with Sky's 116.
BT's chief executive Ian Livingston said the subscriber numbers were promising.
"It is early days but we are very pleased with the strong start in BT Sport. More than half a million households have now ordered BT Sport and that's before the channels have even launched," he said.
However, most are existing customers who received the channels for free after renewing their broadband contracts.
When these are stripped out, BT added just 23,000 new subscribers.
"We expect the proportion of new customers to increase after we launch the channels on 1 August," BT said.
'Fraction' of Sky
Sky Sports does not reveal how many subscribers it has, but it is widely believed to be in the millions.
BT's sports offering is partly designed to prevent customers from defecting to Sky and taking their broadband and telephone accounts with them.
"The numbers quoted are but a fraction of BSkyB's penetration," said Richard Hunter, head of equities at Hargreaves Lansdown Stockbrokers.
But he said BT's broader performance was cause for optimism.
"As the company has reinvented itself, it has become a more modern, streamlined and focused entity whose prospects remain tantalising.
"In particular, BT's retail division, broadband and fibre network are contributing strongly, the company's ability to generate profit whilst keeping an eye on cost efficiency is improving."
BT's other major investment alongside television is in fibre-optic broadband.
It said it added 197,000 retail fibre broadband customers in the quarter, increasing its customer base by about 30% to 1.5 million.