General Motors profits down despite strong US sales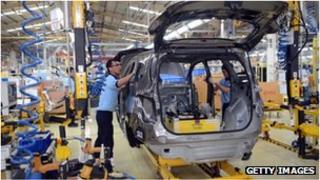 US car giant General Motors has reported profits of $1.2bn (£784m) for the second quarter with strong sales in North America offsetting problems in the European car market.
The profit figure was down on the $1.5bn GM made in the same period last year, but was above expectations.
North American sales brought in $2bn of profit, while European operations made a loss of $110m.
Car sales in Europe have slumped in recent years.
Unemployment and austerity measures have curbed consumer spending.
In the first half of this year, European car sales were 6.6% down on last year across Europe, according to the carmakers' body ACEA, hitting a 20-year-low.
GM chief financial officer Dan Ammann said Europe remains "very challenging".
The company cut $400m in costs from its Europe business in the three months to June.
Dan Ackerson, GM's chairman and chief executive, said its home market and fast-growing China remained its priorities.
"We continue to perform well in the world's two most important markets, the US and China," he said.
"We also made further progress in our European business and saw the steady performance of our global brands Chevrolet and Cadillac."