Amazon reports second quarter loss and weak outlook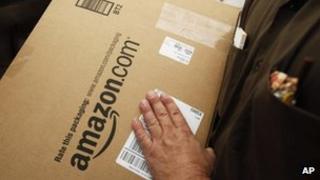 Online retail giant Amazon has reported it lost $7m (£4.56m) in the second quarter of the year.
The loss compares with a profit of the same amount for the same period last year and comes despite a 22% rise in sales to $15.7bn for the April to June quarter.
The company is trying to diversify away from simply warehousing and selling gadgets to providing a broader range of digital services.
Its shares fell by 2% on the news.
The online giant is spending billions trying to expand into a broader technology company, selling its Kindle tablet range along side cloud computing, video streaming and digital downloads.
For the coming quarter, Amazon forecast sales of between $15.45bn and $17.15bn, or an increase of between 12% and 24%, which was below analysts' expectations.
More investment
Founder and chief executive, Jeff Bezos, said the emphasis on technology was clearly showing, with its Kindle tablet computer continuing to sell very well: "This past quarter, our top 10 selling items worldwide were all digital products - Kindles, Kindle Fire HDs, accessories and digital content."
But the firm has been affected by a lack of consumer confidence in Europe, where many countries are still in recession.
North American sales jumped by 30%, Amazon reported, but its international division saw sales rise by just 13%, and did not make a profit.
The loss, equivalent to about two cents a share, came as a surprise to many analysts, who had forecast a profit of five or six cents a share.
But investors have so-far appeared prepared to see Amazon's profits suffer in order to allow investment in digital media, and expansion in fast-growing markets such as China.
Tom Szkutak, Amazon's chief financial officer, told investors: "You should expect us to be in investment mode [in China] for some time."