Glasgow 2014 delivers sport and regeneration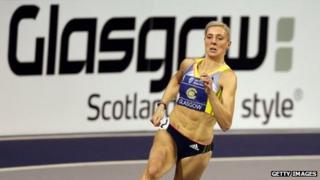 Glasgow is rightly proud about being in the UK sporting spotlight with less than a year to go before the start of the 2014 Commonwealth Games.
But event chief executive David Grevemberg says that in many ways the Games have a more important role - as a major catalyst to improve the city's infrastructure and facilities.
That extensive task includes creating new transport links, sports venues and housing stock, encouraging urban regeneration and business investment, and leaving a sporting and volunteering legacy for young people.
"Glasgow 2014 is not a landing site, it is a launch pad," says Mr Grevemberg.
'Real sign of confidence'
The American has been involved with the event for four years, having come on board in 2009 as director of operations. Last year he was joined at the helm by his compatriot Ty Speer as deputy chief executive.
They have to work within a £524m budget while juggling current demands with those of the city's future.
"All our permanent venues are now built, and the really special thing is that they are already being used," says the 39-year-old, referring to a raft of major sports test events already held in Glasgow.
He also points out that the new £125m purpose-built national arena, the SSE Hydro, and the £113m multi-purpose sports venue, the Emirates Arena, already have long-term naming rights sponsors.
"That is a real sign of confidence in the future of those two venues," Mr Grevemberg says.
The attention now turns to the final phase of (temporarily) transforming Hampden Park, the national football stadium, for the Games.
Already the North Stand has been extended and storage space created under the West Stand, and more toilet and concourse facilities installed.
Next, the playing surface will be raised by 1.9m (6ft) to transform the stadium from a football venue into an international-standard track and field facility.
'Open for business'
While Hampden Park, in the south of Glasgow, is being adapted, an even more ambitious transformation has been taking place in the east.
A major extension to the M74 has been built, giving better links for athletes and spectators and providing access to regeneration projects springing up around the Commonwealth Games event in the East End.
Games organisers are working with urban regeneration body Clyde Gateway to ensure there is a lasting post-2014 legacy for the area, including new sports facilities and housing for local people.
Much of that housing will come from the post-Games transformation of the athletes' village, a public-private partnership scheme in the Dalmarnock area, near Celtic Park football stadium, the venue of the opening ceremony.
Also in the east of the city are the Emirates Arena, Glasgow Green Hockey Centre and the Tollcross International Swimming Centre.
Meanwhile, the local railway station is being upgraded and wasteland in the areas is being transformed as city leaders look to introduce light industry and warehousing, as well as retail and hotel projects.
"We have helped shift the paradigm in that part of the city, so that it says 'we are open for business;'," says Mr Grevemberg,
'Fair chance for tickets'
The next landmark is on 19 August, when tickets go on sale. Prices start at £15 for all sports, with half-price entry for under-16s and over-60s, and two-thirds of tickets will be £25 or under.
"We have learned from London that when it comes to ticketing we need to keep things very simple and straightforward, and to give everyone a fair chance to get tickets," says Mr Speer.
Some 70% of tickets will go to the public, with the rest split between overseas Commonwealth Games associations, competitors, sponsors, broadcasters and hospitality, and some 5% kept back for contingency allocation.
There will also be "flexibility" at each venue, so that seats that may have been allocated for one sector (say for athletes) can be switched to another if they are not being used or needed for their original purpose.
"We want to make the best use of every seat, whether it is an operational or a public seat," says Mr Speer, who also oversees the sponsorship of the Games.
He says there has been a growing awareness since London 2012 among brands and business-to-business companies that sponsorship of major sports events, such as the Olympics and Commonwealth Games, is of value.
"We continue to build on our sponsor proposal, and will keep that going throughout the summer and autumn," he says.
The goal is to bring in at least £100m from private sources - media rights, licensing, tickets and sponsorship - with 17 sponsors signed up so far.
"We have no set level for the number of sponsorships, and can bring more in," says Mr Speer. "As long as we can give companies value for money then the sky's the limit."
'Exciting time'
While there have also been strong media sales for the event worldwide, Games organisers have seen their contribution towards the overall security budget triple.
"Our contribution has to be proportionate to the risks and proportionate to the whole, wider, security envelope," says Mr Grevemberg.
Meanwhile, he points to other benefits of the Games: a catalyst for bringing public and private bodies together with charitable ones; creating a huge interest in event volunteering; providing a legacy for youth; and enhancing Glasgow's reputation.
And the fact that Scotland's tourism agency will spend £2.5m on marketing the 2014 Games at home and abroad can only help.
"It is an exciting time. Already the Games are having a major impact on the city," says Mr Grevemberg.