India panel approves Etihad's Jet Airways stake deal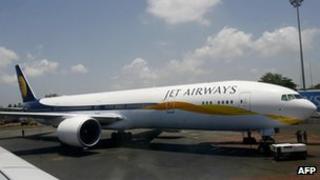 India's foreign investment regulator has given its approval to a $379m (£248m) deal that will see Etihad Airways buy a 24% stake in Jet Airways.
It is the first foreign investment in India's airline sector since ownership restrictions were eased last year.
The deal, announced in April, had come under scrutiny amid concern over who would control the airline's operations.
According to reports, Etihad agreed to reduce the number of seats it would hold on the Jet board.
The regulators have also imposed other conditions on the airlines.
The Press Trust of India quoted Ajit Singh, India's civil aviation minister, as saying that if the two airlines "at any time make changes in shareholding pattern, they have to get permission from the Indian government agencies".
At the same time, any arbitration between the two carriers must be conducted under Indian law.
The deal is expected to boost the fortunes of Jet Airways, which has struggled of late. However, it has faced political opposition in India.
The ruling government has been accused of sweetening the deal for Etihad by signing a bilateral agreement with Abu Dhabi that will sharply increase the number of flights permitted between the two countries each week.
Some politicians from the opposition parties have questioned such a move and fear it may hurt national carrier Air India, which is already facing a tough time.
However, Mr Singh said that all the concerns expressed had been resolved and called the issues raised "politically motivated".
The deal still needs to be approved by the capital markets regulator and the cabinet.