Japan's ANA swings to loss on fuel costs and grounding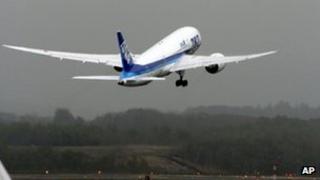 ANA Holdings, which owns Japan's All Nippon Airways, has swung to a loss for the April-to-June quarter.
The company blamed rising fuel costs, because of the weak yen, and the impact from the global grounding of Boeing 787s earlier this year.
ANA posted a net loss of 6.6bn yen ($67m; £44m) compared with a profit of 668m yen in the same period a year earlier.
ANA is the biggest operator of Boeing's 787 Dreamliner with 20 aircraft.
In January two incidents of overheating batteries on Boeing 787 aircraft, one on an ANA Dreamliner, prompted the global grounding of the fleet.
ANA was forced to cancel hundreds of flights. It resumed commercial flights of the Dreamliner in May.
However, the company said the bigger blow came from the rise in the cost of fuel.
"The primary reason for the increase in operating expenses was a rise in fuel costs due to the weakening of the yen," the company said in a statement.
"Operating revenues were also held back by the suspension of Boeing 787 services for part of the period."
Its use of Dreamliners is a push on the part of the airline to be more fuel-efficient.