Chrysler boosts profits at parent Fiat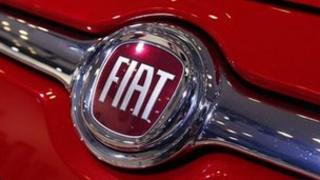 Profits at Chrysler helped quadruple second quarter earnings at 58% owner Fiat.
The Italian giant, which is based in Turin, saw net profit for the three months to June at 142m euros (£123m, $188m), up from 32m euros a year ago.
Worldwide shipments of vehicles - half of these Chrysler brands - were up 5% to 1.2 million units in the period but sales in crisis-hit Europe fell by 5%.
Without the contribution from Chrysler, Fiat would have lost 247m euros.
Sales in North America were 4% higher, while sales in faster-growing Asia and Latin America were up more than 10%.
Fiat, whose marques include Lancia, Alfa Romeo, Ferrari and Maserati sold 234,000 passenger cars in the quarter, leaving its European market share down 0.5% at 6.3%.
Despite the stronger performance from Chrysler, that part of the business gave a wide forecast for this year's profits of between $1.7bn and $2.2bn.
Previously it said it was expecting to make $2.2bn.
Fiat is currently trying to buy a greater share in Chrysler, although a disagreement over price is holding it back.
A court in Delaware is trying to set a value.
Disappointment at the figures caused the shares to fall by more than 4%.