Eurozone unemployment total in slight fall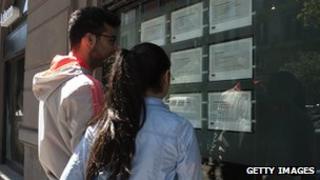 The number of jobless in the eurozone fell for the first time in more than two years in June, but the unemployment rate stayed at a record 12.1%.
The jobless total fell by 24,000 to 19.26 million, the first decrease in the jobless total since April 2011.
The figures add to recent hopes that the economic situation in the eurozone may be stabilising.
The jobless rate was 26.3% in Spain, and 26.9% in Greece, but only 4.6% in Austria and in Germany it was 5.4%.
Last week it was revealed that private sector industry in the eurozone returned to growth in July. The Markit eurozone Purchasing Managers' Index, which measures business output, was 50.4 in July. A figure above 50 indicates expansion.
July's figure was up from 48.7 in June, and marks an 18-month high. The eurozone has been in recession since the end of 2011.
Youth unemployment
In the wider 27-member European Union, 10.9% of the workforce was out of work, down from a revised 11% in May.
The total number of unemployed people in the EU fell by 32,000 to 26.42 million.
During June some 3,526 million young people aged under 25 were unemployed in the eurozone area. while 5.512 million young people were unemployed in the wider EU.
The youth unemployment rate is now at 58.7% in Greece and 56.1% in Spain.
"June's dip in unemployment is likely a reflection of recent increased signs that eurozone economic activity has stabilised, and it fuels hopes that the eurozone can eke out marginal growth over the second half," said Howard Archer at IHS Global Insight.
However, he added: "We doubt that June marks a decisive turnaround in eurozone labour markets and we suspect that unemployment will trend modestly higher over the coming month."
Timo del Carpio, European economist at RBC Capital Markets, said: "While the latest data are far from suggesting a quick turnaround, the stabilisation provides some relief from the relentless rise in the number of unemployed to date."
Also on Wednesday, Eurostat reported that consumer price inflation in the eurozone was unchanged at 1.6% in the year to July, in line with expectations.
But in a sign that all is not yet well in the eurozone, new data from Europe's largest economy - Germany - showed that retail sales fell by 1.5% in June from the month before, their biggest drop this year,
Sales fell by 2.8% from a year earlier, due largely to declining sales of food, drinks and tobacco.