China manufacturing activity sees mixed data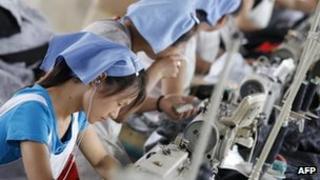 China's manufacturing sector saw mixed fortunes in July, underlining concerns of a slowdown in its economy.
The official Purchasing Managers' Index (PMI), which surveys bigger firms, rose to 50.3 in July from 50.1 in June.
However, HSBC's PMI, which tracks smaller firms, fell to 47.7 from 48.2 in June. The PMI is a key indicator of manufacturing activity and a reading below 50 shows contraction.
This is the third month in a row the HSBC reading has been below that level.
The data comes amid fears that China's growth rate - which has declined for two straight quarters - may slow further.
Figures released earlier this month showed the world's second-biggest economy grew at an annualised rate of 7.5% in the April to June quarter, down from 7.7% in the previous three months.
'Perfect storm'
China's manufacturing and export sectors have been key drivers of its economic growth.
However, demand for China's exports has slowed recently, especially from key markets such as the US and Europe as they grapple with their own economic problems.
At the same time, policymakers have found it tough to boost domestic consumption enough to offset the decline in foreign sales.
To make matters more difficult, labour costs in China have been rising, resulting in some companies looking to countries such as Bangladesh and Cambodia for low-cost manufacturing.
Analysts said that despite the slight pick-up in July, these factors continued to be a threat to China's manufacturing sector.
"All this put together has created a perfect storm," Simon Littlewood of Asia Now Consulting Group told the BBC.
"Today's data doesn't change the reality that the situation in China remains that of declining growth."
Growth measures
Prompted by these concerns, China has unveiled fresh measures aimed at boosting growth.
Last week, it said that it would suspend value-added tax (VAT) and turnover tax for small businesses with monthly sales of less than 20,000 yuan ($3,257; £2,125), starting from 1 August.
The cabinet said the move would benefit more than six million small companies and boost the employment and income for millions of people.
Beijing said it would also implement measures to simplify customs clearance procedures, cut operational fees and facilitate the exports of small and medium-sized private enterprises.
It also unveiled plans to completely open China's railway construction market to ensure that the country can develop the sector further.
Hongbin Qu, chief China economist at HSBC, said that "these targeted measures should boost confidence and reduce downside risks to growth".