Shock: A banker can live on £1m salary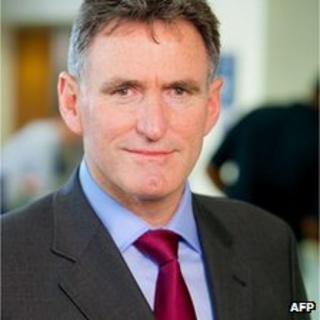 Ross McEwan, the new boss of RBS, is doing a slightly unusual thing for a top banker: he is living on his salary and is not expecting to receive bonus payments until at least 2017.
Admittedly his salary won't look small to most: it is £1m a year.
But that is 16.7% less than his predecessor, Stephen Hester (who will be staying in the post as RBS chief executive until October 1).
As ever with bankers' pay arrangements, it is all a bit more complicated than it seems at first glance.
So here goes.
McEwan has told the board that he doesn't want any bonus relating to his performance as chief executive either for the rest of this year or for 2014.
That is unusual. And I have to say, that he has my personal heartfelt thanks, because this will be the first year since 2009 that I don't spend too much of December and January trying to find out what the the bonus will be for the boss of RBS, and then recording the outrage of the political class.
Also, any bonus he has earned for his role as head of retail at RBS so far this year will be deferred till 2017, when it will be paid in shares.
As for future bonuses, they won't be finalised till new European Union limits on bonuses are finalised.
But, like the boss of the other semi-nationalised bank, Lloyds, McEwan's bonuses will be conditional on Royal Bank of Scotland's share price rising above what the Treasury deems as the break-even level for taxpayers' stake in the bank (a complicated valuation, because of the Treasury's preferential rights to any future dividends, but probably around 450p a share) and on progress towards full privatisation.
Or to put it another way, McEwan's remuneration scheme implicitly confirms what the chancellor said in his annual speech to the City at the Mansion House, which is that the privatisation of taxpayers' 81% stake in RBS is years away.
Anyway, don't weep too much for McEwan's financial sacrifice. He will be eligible to receive what RBS calls a "long-term incentive award next year". If all goes well over several years, he will emerge considerably wealthier.
As for RBS's financial performance, there are two ways of looking at this.
In respect to what matters most to its customers, it is much stronger than it was: RBS's capital resources, essential to protect savers from losses, are considerably more ample than they were, and more ample than at Barclays (which, as you will recall, has had to ask for money from shareholders and other investors to help fill a £12.8bn hole).
Its capital resources as a percentage of loans and investments have more than doubled, in spite of the bank having absorbed losses on a mind-boggling scale.
However, the picture for shareholders is less pretty.
The headline swing from a loss of £1.7bn to profits before tax of £1.4bn is driven mainly by the madness of surreal accounting rules foisted on banks - which forces them to increase or decrease the value in their books of money they borrow (what is known as "own credit") depending on whether banks are in-favour or out-of-favour with investors.
Stripping that out, the growth in profits is less pronounced than at fellow semi-nationalised bank Lloyds: at the operating level, the increase is just 5% to £1.7bn.
And in what RBS calls its core - the good operations that it wants to keep and expand - profits actually fell (again at the operating level) from £4.5bn to £3.8bn.
What may disturb some investors is that there has been a progressive diminution in what RBS earns on its equity (its investment) in its core operations, from 8.7% at the end of June last year, to 7.7% at the end of March this year, and 7.2% at the end of June.
In part RBS's slower rehabilitation is because it is a much more complicated bank than Lloyds - and was much more messed up than Lloyds.
This complexity has two elements: unlike Lloyds, RBS is relatively big in investment banking and is much more international; and there has been more disagreement with the owner, the Treasury, on future strategy (the chancellor has urged RBS to shrink investment banking faster than Stephen Hester, a former investment banker, was keen to do).
In the six months the operating profit in RBS's markets division (its characterisation of investment banking) fell from £1.1bn to £430m; and within the first half of this year, there was a progressive deterioration in the investment-banking performance.
Now what is difficult to judge is whether that proves the chancellor is right, that investment banking is consuming too many of the group's resources for the returns it earns, or Hester is, to wit that you can't be half-pregnant or half a global investment bank and expect pink bouncing profits.
However that is now an irrelevant debate: RBS's investment bank is shrinking; and it would not be surprising if that shrinkage accelerated, now that a pure retail banker, McEwan, has been given the top job.
As for the first big thing on McEwan's plate, namely whether RBS should be broken up into a good bank and bad bank, these figures don't provide much new evidence on whether that would be a sensible way to improve the prospects for taxpayers getting their money back.
UPDATE: 1245
It has been brought to my attention that my description of Ross McEwan as a "pure retail banker" isn't quite right.
He has been in retail banking for the past decade (a bit longer in fact), latterly in charge of retail banking at Commonwealth Bank of Australia. But before that, he worked in insurance and investment for more than 25 years, which included a stint as managing director of a stockbroker, First NZ Capital Securities.
So not so pure after all.
But the point still stands, that RBS's investment bank is very unlikely to expand on his watch. In fact, in its briefing of analysts today, RBS said that it planned to shrink the balance sheet of its investment bank by just under 30% by the end of 2014.