What are the risks of buying a home off-plan?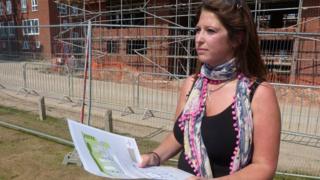 Would you buy a house or a flat without actually seeing it first?
Thousands of people looking for a new home are now buying off-plan, a trend last seen at the height of the property boom before 2007.
Many developers say half the new homes they are selling are now off-plan.
Buyers agree the price, typically pay a 10% deposit, and then have to wait up to a year until the home is finished.
It does offer buyers the opportunity to chose their own fixtures and fittings.
And, if prices are rising, the chances are their home will have already proved a good investment by the time they move in.
But equally well, things can go badly wrong.
If they do, buyers could end up losing a deposit of tens of thousands of pounds, and even being sued by the developer.
Buying off-plan is not for the faint-hearted.
'Bet' on prices
Close to the banks of the Thames, on the border of Oxfordshire and Berkshire, is a development called Cholsey Meadows.
Hundreds of new flats and houses are being built on the land surrounding an old hospital.
Even though they are still several months from completion, 75% have been sold in advance, or off-plan.
Trainee solicitor Alex Howarth has been watching her flat going up, ever since she and her partner put down a deposit in the spring.
The developer offers such off-plan buyers the chance to design their own interiors.
"We were able to pick the kitchen, the bathroom, the floors, and some of the tiles for the bathroom as well," she explains.
"So it meant that we were able to put our own stamp on the property. Hopefully it will make it a lot more ours."
She is also confident that it will be a sound financial investment.
"I think in the next few years we will see property prices rise and we will get the benefits," she says.
Indeed, given that buyers agree a price up to a year before they get the property, people buying off-plan are, in effect, betting that prices will go up.
If prices go down, they will have lost money before they even get through the front door.
And things can get even worse than that.
Warnings
If property values start falling, the bank or building society may change its mind about lending you as much as they promised when you took out the deposit.
You or your partner may lose your job, and again the lender may get cold feet.
But the developer could still hold you to the contract you signed.
If it can only re-sell the property for a lower price, it could sue you for the difference.
And you will certainly lose your deposit.
Kate Faulkner, of the independent advice site Propertychecklists.co.uk, warns you could lose hundreds of thousands of pounds.
"You not only lose your deposit, but the developer can sue you for the loss in value as well, so you can lose a lot of money, and have the stress of a legal case," she says.
Then there are the other irritations of getting a home you did not quite expect.
Perhaps the view is obscured. Perhaps the plumber has had a bad day, and plumbed the hot supply to the cold tap.
Most developers say they take care to stop such things happening.
Under the National House-Building Council (NHBC) scheme, 80% of new homes in the UK come with a 10-year warranty.
In addition, many developers run a 'meet the builder scheme' to keep buyers in touch with what is happening as their properties go up.
"Buyers see the stages of construction," says Andrew Thomson of Linden Homes.
"At that point they are able to have the confidence that they're buying what they reserved," he says.
Defects
Other things to consider include what happens if the developer goes bust after you have put your deposit down, but before the property is finished.
Then there is the mortgage offer to think about.
Most banks and building societies are happy to lend on off-plan properties, but they usually need you to complete within six months.
If the property is not finished within that timescale, they may withdraw the mortgage offer.
"You may find that some lenders will extend it for a short period of time," says John East of estate agent Kinleigh Folkard and Hayward.
"But in many cases you may find that buyers will go back to the beginning of the application process," he warns.
Ms Faulkner advises anyone thinking of buying off-plan to visit the building site at least fortnightly, and to get a snagging survey (checking a new-built home for minor faults) done before they move in.
The average new build can have as many as 80 small defects.
"You've just got to cover yourself for the downsides, and then it's OK," she says.
"But you've got to do your research. Don't rush in to buying off-plan."