UK motor industry lifts sales outlook after strong July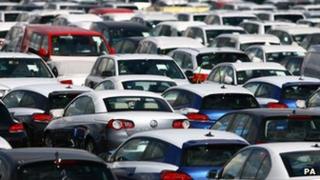 The UK motor industry has raised its forecast for new car sales in 2013 after July saw another strong performance from the sector.
The Society of Motor Manufacturers and Traders (SMMT) says sales will reach 2.2 million this year, up 8.4% on 2012, and better than its original forecast of 2.1 million sales.
July marked the 17th successive monthly rise in new car sales.
The UK car market continues to outperform most of its European rivals.
Mike Baunton, SMMT interim chief executive, said strong business and consumer confidence in July led to the new car market posting double-digit growth in the month. with strong increases across the private, fleet and business markets.
New car sales were up 12.7% compared with July 2012, in contrast to Germany and France, where sales rose by just 2% and 1% respectively.
Ford's Fiesta and Focus models were the most popular cars in both July and the year-to-date.
"Now we have evidence of consistent growth, we have raised our forecast for 2013 new car registrations," Mr Baunton said.
"Recently, we've seen a range of economic indicators point to improving conditions and our raised sales forecast emphasises how positively we view the rest of 2013."
Derek McAllan, UK head of automotive retail at KPMG, said the UK new car market continued to significantly outperform the rest of the UK retail sector.
"The continued availability of cheap and subsidised finance, a recovering economy and a sustained house price recovery should ensure that the motor retail market remains strong for the remainder of the year and into 2014," Mr McAllan said.
The SMMT figures came as official statistics showed manufacturing output rose in June at the strongest pace since the end of 2010.