Profile: Jeff Bezos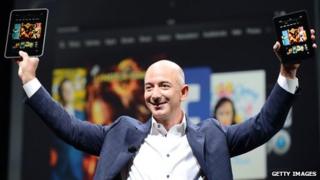 The purchase of the Washington Post is a new landmark in the remarkable career of Jeff Bezos.
His internet retailer Amazon has become a global phenomenon and made him one of the richest individuals on the planet.
But he took a huge risk in the 1990s when he abandoned a well-paid job in the financial services industry to start his own company.
Mr Bezos, 49, was born Jeffrey Preston Jorgensen in Albuquerque, New Mexico in 1964.
His present surname was adopted when he was four years old after his mother remarried.
He grew up in Houston, Texas and Miami, Florida.
Mr Bezos studied computer science and electrical engineering at Princeton University.
After graduating, he had a successful career on Wall Street, where he worked in computers for banking and investment firms.
'Pioneering' focus
Amazon was founded in 1994, after Mr Bezos moved from New York to Seattle. The internet was beginning to take off and internet retailers were favoured by a US court decision that they did not have to pay sales tax in states where they had no physical presence.
Initially, the site was based in Mr Bezos's garage.
From the start, he stressed that his aim was to focus on customers rather than competitors, which he said allowed Amazon to be "more pioneering".
He once commented: "There are two kinds of companies, those that work to try to charge more and those that work to charge less. We will be the second."
In July 1995, the company sold its first book, Fluid Concepts & Creative Analogies: Computer Models of the Fundamental Mechanisms of Thought.
The company sold shares on the stock market for the first time in 1997 and announced its first profitable quarter five years later.
In 2003, he had a brush with death when he survived a helicopter crash in southwest Texas. Speaking about the incident later, he said that the only thing that went through his mind was, "What a dumb way to die."
He had gone on the helicopter flight to look for somewhere to base his space exploration company, Blue Origin, which he founded in 2004.
In another space-related venture, he is funding a project to recover the engine from the Apollo 11 lunar mission, which is currently lying on the bed of the Atlantic Ocean.
He is married to novelist Mackenzie Bezos and they have four children.