Walt Disney to lose millions on Lone Ranger film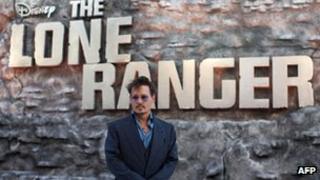 Walt Disney has warned that its Lone Ranger summer film will lose it between $160m-$190m (£104m-£124m) after heavy spending on promotion failed to bring returns.
The news came with the entertainment giant's third quarter results.
They showed earnings almost unchanged but revenue up 4%, thanks to its theme parks and cable networks, such as ESPN.
Disney said it earned $1.85bn in the quarter to the end of June, up from $1.83bn last year.
Revenue at its theme parks and resorts grew by 7% to $3.7bn while cable network revenue was up by 8%.
The parks in California and Florida attracted more visitors, and operating income for that division outstripped that of the resorts, rising by 9% to $689m.
ESPN is facing new competition from 21st Century Fox's Fox Sports 1, which is launching this month.
Disney's chairman and chief executive, Bob Iger, said the new competitor had not harmed advertising sales at ESPN.
Fox news and entertainment was recently spun off from News Corporation, which retains its businesses of newspapers and publishing.
Risks
The losses from the Lone Ranger film, which stars Johnny Depp, will show up in the next quarterly figures.
The film had its premiere in early July and made $29m in US and Canadian ticket sales over its first weekend, a figure considered weak in the industry for a major release.
It opens in the UK this weekend.
Disney said Iron Man 3, which was released in late spring, had fared worse than The Avengers which was out a year earlier, but that its Pixar movie Monsters University was doing better than its children's film Brave did a year ago.
Mr Iger said he was happy with the results, adding: "We are confident that our strategy of creating high-quality branded content positions us well for the future."
He said he appreciated the risks associated with high-cost films, but that he still thought they were worth the risk.
"One way to rise above the din and the competition is with a big film, not just big budget, but big story, big cast, big marketing behind it," he said.