UK home repossessions fall, says CML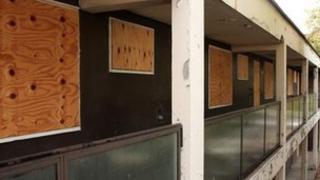 The number of homes repossessed from struggling owners in the UK fell in the second quarter of the year.
There were 7,700 properties repossessed in April, May and June, the Council of Mortgage Lenders (CML) said, a drop of nearly 4% on the previous quarter.
This put repossession levels back to the same position as the last three months of 2012.
The number of homes being seized by lenders has been falling in recent years as interest rates stay low.
Low-cost mortgages
Homes are repossessed if householders fall well behind on mortgage payments and lenders see no prospect of the bill being paid.
Repossession figures in the recent financial crisis peaked in 2009 when there were 48,900 homes seized over the course of the year. There are 11.3 million mortgages outstanding in the UK.
The numbers have fallen since 2009 owing to the record low level of interest rates. The Bank of England has held the Bank rate at 0.5% for more than four years, and lenders have been competing for relatively few buyers by offering low mortgage rates.
In addition, lenders have been under pressure not to repossess properties unless it is genuinely a last resort. They must do a considerable amount to convince the courts that they should seize a borrower's home.
Mortgage rates and, in turn, repossessions might be expected to remain low following an announcement of interest rate plans by the Bank of England on Wednesday.
The Bank said it would not consider raising the Bank rate until the jobless rate has fallen to 7% or below, which could be another two or three years.
The Bank rate is a key factor used by financial institutions when setting their own rates for borrowers and savers.
"Yesterday's message from the Bank of England provides some encouragement to those borrowers who are struggling that any rise from the current historically low Bank rate will be linked to an improvement in the wider economy," said the CML's head of policy, Jackie Bennett.
Arrears
The CML figures show that the number of repossession cases totalled 15,700 in the first half of 2013, the lowest six-monthly figure seen since the second half of 2007.
The lenders' group expects repossessions to hit 35,000 by the end of the year.
The number of households falling behind on their mortgage payments dropped to its lowest level since autumn 2008 in the second quarter of the year. At the end of June, a total of 157,700 mortgages, equivalent to 1.4% of all loans, were in arrears of 2.5% or more of the balance.
The amount of people struggling with severe arrears of 10% or more of the balance was unchanged compared with the first quarter.
Housing Minister Mark Prisk said: "I would urge anyone with financial difficulties to seek advice from their lender early, so that repossession continues to remain the last resort."