Workers sticking with new pensions, says DWP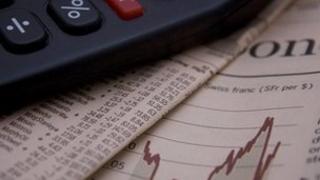 Fewer than one in 10 workers have opted out of being automatically signed up to saving for a pension, government figures show.
More than one million people have been automatically enrolled into schemes, under a coalition policy to encourage saving.
The government initially estimated that about 25% of those signed up might take the option to leave the savings scheme.
But experts warn it is still early days for the project.
They say that a "pensions crunch" will come in early 2014, when some 29,000 medium-sized firms will join in.
Nudge to save
Automatic enrolment started in October. A slice of an employee's pay packet is automatically diverted to a savings pot for their pension, assuming they are aged 22 or over and earning at least £9,440 a year.
Employers are obliged to pay in as well, with the government adding a little extra through tax relief.
Those who already save in a workplace pension scheme or are self-employed are not signed up.
Experts and ministers say it is vital people make a start at an early stage in their working lives, to eventually have savings that will top up the state pension.
But staff have an option to opt out of being automatically enrolled, if they would rather save or spend in their own way.
Now the Department for Work and Pensions (DWP) has published its research for the first time about how the system has worked among large firms.
Data from 42 companies showed that 9% of people who would have been signed up have opted out.
Staff who work for the biggest businesses have been included in the early stages of the project.
Early days
Some workplaces in the first wave had opt-out rates of only 5%, while others had 15% turning down the scheme. The average was 9%. The highest opt-out rates were among the over-50s.
"Seeing our largest employers report such low opt-out rates bodes well for this ambitious programme, which will see millions more putting money aside for the future," said Steve Webb, the pensions minister.
The research only looks at the very first firms to be included in the scheme, whereas some 1,000 companies are now involved.
The surge of businesses coming into the scheme occurs next year.
"By the end of 2014 we'll have a much better idea of whether we really are getting to grips with the pensions crisis," said Tom McPhail, head of pension research at investment firm Hargreaves Lansdown.
He added that the amount of money set aside for a pension under auto-enrolment might be insufficient for a decent retirement income.
This view was echoed by David Robbins of pension consultants Towers Watson.
"Many people will feel relieved that they have been nudged into starting to save for a pension, rather than having to sort it out for themselves. However, they should not assume that the automatic contribution rates are the right amounts to save," he said.
Many people do not qualify for automatic enrolment, notably low-income women, as they do not earn above the income threshold of £9,440 to be signed up.