Eurozone manufacturing output rises ahead of GDP data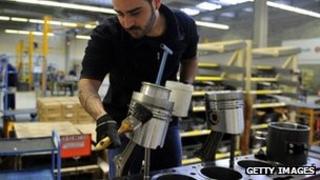 Factories in the eurozone saw output rise in June, reinforcing hopes the bloc may have exited recession in the second quarter.
Industrial production grew by 0.7% from the previous month, according to official data from Eurostat.
The rise was driven by a 4.9% surge in the production of durable consumer goods, such as cars and computers.
Eurozone growth figures for the April-to-June period will be published on Wednesday.
The sharp upswing means output is growing again after May's 0.2% fall.
In the second quarter as a whole, industrial production was up 1.1% on the three months to March, the largest quarter-on-quarter increase since the final three months of 2010.
Economists said the rise, alongside other positive data, suggested that the eurozone's recession, which began in the final quarter of 2011, could finally be at an end.
Ben May, an economist at Capital Economics, said the data indicated the eurozone had emerged from recession. "But we doubt that this will mark the start of a strong and sustained recovery," he added.
The overall industrial production figures masked some sharp divergences, with Europe's biggest economy, Germany, seeing a 2.5% month-on-month jump.
Greece, the first eurozone country to receive an international bailout in May 2010, also saw production rise 2.5%.
However, Portugal saw production drop by 2.8% and the Netherlands by 4.1% month-on-month.
The industrial production data came after the ZEW monthly index of economic sentiment in Germany rose to 42.0 in August, its highest level since March and better than analysts had expected.
"It looks as if there will be a turning point in the coming weeks. The ZEW proves that," said Thomas Gitzel at VP Bank.