'London whale' traders charged in US over $6.2bn loss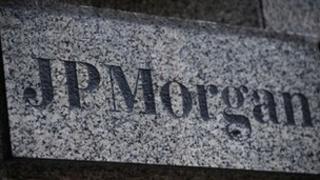 US authorities have charged two JP Morgan Chase traders with fraud in connection to the $6.2bn "London whale" trading losses.
The charges against Javier Martin-Artajo and Julien Grout allege they tried to hide millions of dollars.
They are accused of keeping false records on the trades and committing wire fraud, charges they both deny.
The bank suffered the multi-billion dollar loss after trades made by the so-called London Whale went bad.
The US Department of Justice alleges that Mr Martin-Artajo, who was responsible for JP Morgan's trading strategy in London, and Mr Grout, who submitted the trades, "artificially increase[d] the market value of securities to hide the true extent of hundreds of millions of dollars of losses".
The complaint, which was unsealed on Wednesday in a federal court in Manhattan, goes on to say that the two were responsible for hiding more than $660m (£425m) in losses.
Separately, the US Securities and Exchange Commission filed a civil complaint against the two traders on Wednesday as well.
"Mr Martin-Artajo is confident that when a complete and fair reconstruction of these complex events is completed, he will be cleared of any wrongdoing," said Norton Rose Fulbright, the law firm representing Mr Martin-Artajo.
Mr Grout's lawyers did not return a request seeking comment.
'Perfect storm'
In a press conference to discuss the charges, US Attorney for the Southern District of New York, Preet Bharara, referred back to JP Morgan boss Jamie Dimon's initial evaluation of the whale losses as a "tempest in a teapot".
"As has already been conceded, this was not 'a tempest in a teapot' but rather a perfect storm of individual misconduct and inadequate internal controls," said Mr Bharara.
According to Mr Bharara, Mr Grout and Mr Martin-Artajo began to "creatively cook the books" at JP Morgan in March of 2012.
He explicitly singled out the lack of adequate controls at JP Morgan that allowed such a cover up to take place.
Terrible trade
The London-based derivatives trader Bruno Iksil, who earned the nickname the "London whale" for his big bets on financial derivatives markets, has not been charged.
He is co-operating with the authorities, according to a separate agreement also released on Wednesday but dated 20 June.
Mr Iksil "has several emails in which he tells his superiors that the losses are getting horrific that he can't keep hiding it anymore", Columbia University professor John Coffee told the BBC.
"That is exactly contrary to the intent you would need for securities fraud," he said.
"Remember it's not a crime to make a terrible losing trade."
JP Morgan boss Jamie Dimon said at the time of the loss in May 2012 that the trade was "the stupidest and most-embarrassing situation I have ever been a part of".
Mr Dimon has not been charged with any wrongdoing.
JP Morgan is also under investigation by the US Securities and Exchange Commission, Congress, the Federal Reserve, federal banking regulators and the UK's Financial Conduct Authority, among others.