Legal & General plans to become large-scale landlord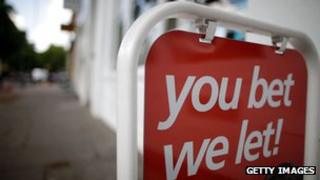 Insurer Legal & General is looking to become a major landlord in the UK's residential housing market.
L&G head Nigel Wilson told the BBC that there is "intergenerational injustice" towards young people, who can't get jobs, have to pay for very expensive education and can't afford housing.
Legal & General plans to invest £15bn in housing, education, energy and transport over the next ten years.
The company has £433bn under management, mostly in pension funds.
Mr Wilson said that while house price rises may be welcome news in some quarters, for many young people they exacerbated their problems.
"Instead of applauding ourselves when house prices go up, we should try to develop a system where house prices don't go up for the next few years and we increase the supply - instead of 120,000 house a year, up to 250,000 a year, a sizeable portion of which should be rented." he said.
Such an increase would invariably mean building on green belt land, something Mr Wilson said should be part of the solution.
Planning difficulties
He identified the current planning process as a stumbling block, but did acknowledge that some positive progress had been made to the system in recent years.
"Planning in the UK is probably as difficult as it gets anywhere in the world," he said.
Legal & General made its first direct investment in the housing sector back in March, when it bought 46.5% stake in the housebuilder Cala.
At the time, Legal & General said that the deal was "part of a strategy to target socially useful projects (including housing, education, transport and energy sectors) that deliver high rates of return and fit Legal & General's financial and strategic criteria."
However, while Cala was an investment in the build-to-sell market, Mr Wilson told the BBC that Legal & General was now looking to enter the build-to-rent sector.
"How big we can be, we don't know," he said.
"It depends on the planning environment here in the UK, but certainly it's our economic intention to have a much bigger role in the private rented accommodation market."