Wal-Mart results hit by tough markets as Asda growth slows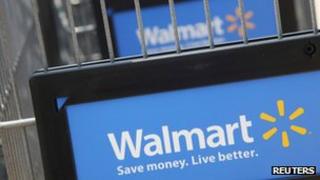 Shares in Wal-Mart fell on Thursday after the firm revised down its sales expectations for the year.
The company said it now expected net sales to grow between 2% and 3% in 2013, compared with a previous range of 5% to 6%.
The firm said cautious shoppers had been hit by higher petrol and payroll taxes, which are similar to UK national insurance.
Wal-Mart's shares fell 2.6% in early trading in New York.
The company, which owns the UK chain Asda, reported higher profits in the second quarter.
Profits rose 1.3% to $4.1bn in the three months to July from the same period last year.
However, same-store sales at Wal-Mart fell 0.3% - which was below analysts' expectations.
Essentials
British subsidiary Asda saw like-for-like sales slow in its second quarter and said consumers remained under pressure.
However, the figures excluded most of July, when UK retail sales rose at their fastest annual rate in more than two years.
Mike Duke, Wal-Mart's president and chief executive officer, said the retail environment had been challenging across all of Wal-Mart's markets.
"I'm encouraged by our position to execute in the second half of the year, particularly with the steps we're taking to improve performance," he said.
Asda, the UK's second-biggest supermarket, reported that like-for-like sales, excluding fuel and VAT, rose 0.7%, down from 1.3% in the first three months of the year.
Asda's chief executive Andy Clarke said he was pleased with the result.
"We continued to grow our sales while also investing in holding down the price of essentials," he said.